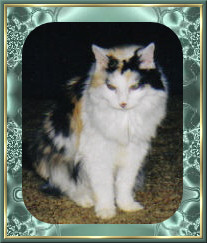 Mewsette at nearly 19


My precious Mewsette, the love of my life, had battled Chronic Renal Failure from October of 2000, when they said she wouldn't last a year. They didn't reckon on her magnificent spirit, they didn't know she was a miracle girl and a steel magnolia. When other medical problems began in the next years, we managed it all well. But in her last year she had cancer, and nothing could be done because of her age and fragile condition. The CRF couldn't get her, it tried and it couldn't. She won. It was the cancer that took her.

My darling crossed over to Rainbow Bridge peacefully in my arms January 17, 2006. She would have been 20 years old in April. I'm sure every kitty angel there came to gather her gently to that place where they had expected her for so long. I know there was great rejoicing, all her family and friends with her dear mama in front to welcome her there. There must have been singing and a huge burst of sunlight for one so precious to arrive. There was none here. I wanted the sky to be falling, I wanted it to rain and pour tears from heaven, I wanted the world dark, I just wanted all of creation to know it lost something wonderful, like I did.

But she gave me so much love, it fills up my heart even when she's gone. The pain and the emptiness can't prevail with such a great love crowding them out. She wouldn't want that. There was so much love in her, that she gave and gave all her life, that she believed in most. She also believed that she was queen of the universe, and she was right. Her little calico body and her big strong spirit were so beautiful, they should be celebrated. This is a celebration of her beautiful life.





at 6 weeks old



She was born under my house April 4, 1986, and was the first to drop from where I was digging into my hands as a two day old baby. I knew she was special that first moment. I can't explain it, but I knew.





at one year old



She loved her furmama, her brother and me, and was always snuggling, kissing and washing on one of us. She was a fearless adventuress, a great huntress, a wild little hoyden and an accomplished femme fatale in her youth. When she was through making mischief, she'd come to lay in my lap. She was still coming to her last day. One day when she was barely grown up, I looked at her and she was so beautiful she took my breath away. She still was at 19. The loving look she knew how to give could stop you in your tracks and melt your heart. She still could at 19. She was so talkative and had so much to say, nobody ever got a word in edgewise again. And she was the original "touch me and I purr" girl.





at 10 years old



She loved to be dramatic; her performance of Camille under the kitchen table could tear your heart out and get her all the attention she wanted. She could cry real tears. She knew how to point out things that didn't meet her approval, such as a litter box in less than pristine condition, and to ask for what she wanted. Not only would she insist that I understand her, but that I follow her to see the offending or the desired whatever. When a kitty is that good at communicating and takes such care to teach you, you understand everything she says, and I did. She had so many gifts, from her ability to get on and off any roof when she was young, to her graceful tippytoeing through fragile breakables without disturbing a thing, to her gift for singing opera in clear lilting soprano. She could sing anything and often did, but she preferred to bless us with her heart-rending performance of Madama Butterfly at 3 AM, which she considered matinees. I loved every minute of it all.





at 14 years old



She had beautiful manners and was painfully polite, even if she was sick, which over the years, she was quite a bit. She never missed a litter box in her life or threw up on anything but a wipeable kitchen floor. If she had to, that's where she'd run. That isn't to say she couldn't scream like a banshee for hours if she was extremely displeased or frightened, like during the two moves we made to other states. Or that converting her to an indoor kitty at age 8 was anything but noisy for.. oh, about a year. When she lost her furmama at 16, she turned to her little sister Phelicity and found love, admiration and caring in her to help her. When she decided to settle with grace and dignity into old age by 18, she did. She just never considered it old age, and went right on ruling the house. No other cat was ever such a queen as she was, and she knew it.



| | |
| --- | --- |
| Mewsette at 17 | Mewsette at 19 |


Everything about her was sheer beauty. Over the years, she gave me great inspiration for many things, but most of all she gave me pure, unconditional love that never wavered for a minute. In spite of all we went through in her years of illness, she was good about everything, she learned patience, and her love shone out of her like starlight. Her body grew tired but her glorious spirit grew stronger, the strength of her love carried her through the last part of her life and made her a miracle to anyone who saw. She was so much a part of me that I can hardly believe I'm still here when she isn't. She was my soulmate. And I was so blessed to have her for all those precious years.





Sweet Mewsette, you were the warmest, softest, most totally alive being I ever knew. You've only changed the place where you are. You radiated life and love all your days. You still do. You always had the pride and manner of a queen and the shining spirit of an angel, and now you do forever. You left my heart so full of you. Oh, my love ... time goes on, and time can do so much ... but you will always be mine. I will always love you.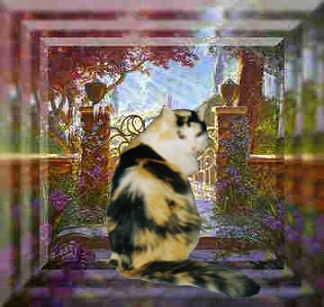 Thank you Barb, for the lovely title banners and frame, and so much more.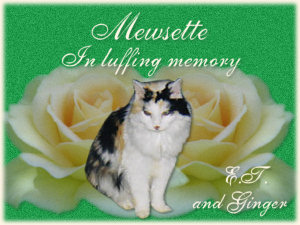 Please visit Mewsette's Memorial page made for her by her wedwink E.T.
Thank you.

Also please visit:

Candle in the Wind for Mewsette

Here is Phelicity's special page for her sisfur: My Sisfur Mewsette

This is a page of poems I wrote for Mewsette in the earlier years of her illness:
Stormy Green Ocean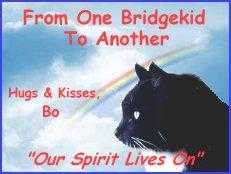 Thank you Nancy, for this special gift from Bo.





Thank you to the Crowley family for Mewsette's Rainbow Bridge candle.
This was created and the tradition begun long ago by her friend Shibui.

HOME

copyright 2006 by Sharon Goodman