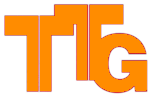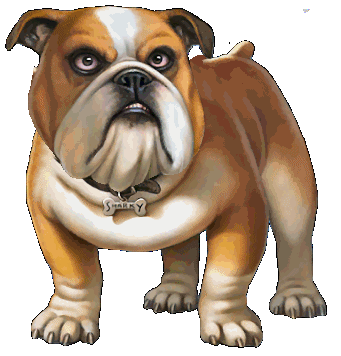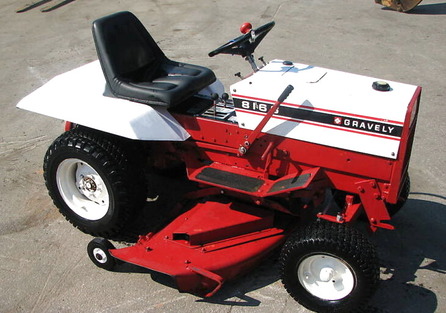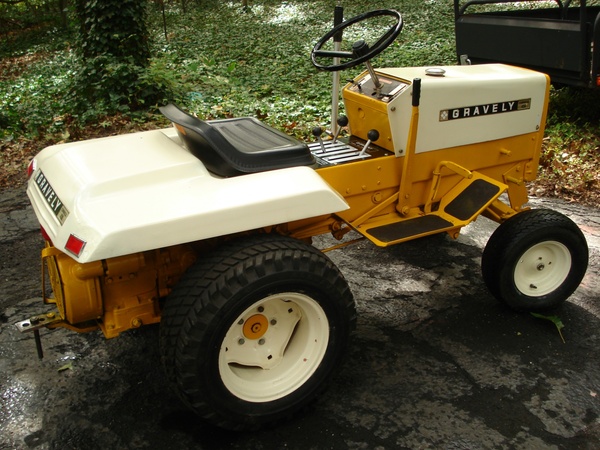 All Old Gravely Tractor Manual Pdf File
Links Are Below
BRIEF GRAVELY HISTORY
Benjamin Franklin Gravely Jr. was born November 29th, 1876 in Henry County, Virginia and died January 31st, 1953 in Charleston Kanawha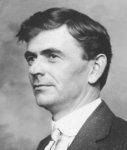 County, West Virginia at age 77.
In 1911, Ben Gravely bought a new home in South Charleston, West Virginia and undertook gardening as a hobby. Gravely may have stumbled onto the motor-plow idea by accident.
Historians believe he was trying to invent a post-hole digger, when it got away from him. It dug a furrow from one end of the garden to the other, before he got it under control.
He continued tinkering with the design for a power-driven plow. Using a old Indian motorcycle engine and a push plow rigged to a single tractor wheel, Gravely constructed his first motor-driven plow.
With the 2.5 horsepower engine and flywheel on one side and the gears on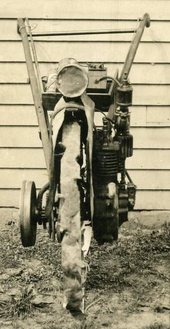 the other, the prototype was a crude version of the machine that would revolutionize garden cultivation. Gravely continued to refine the initial design, first in his kitchen, basement and then his garage.
Some neighbors saw it and asked Ben to build one for them too, and so it all started. From this simple start, he kept adapting the plow until he perfected it. Bens goal was to build a tractor which would revolutionize gardening and lawn maintenance for the homeowner.
Mr. McClellan, a friend of Gravely, owned a machine shop in Middleport, Ohio. He allowed Ben to build more tractors at his shop. It was there that Gravely designed the engine and built six or seven of the first tractors, which weighed about 190 pounds each. He also developed several new tools for the engine and drive-train as he built a successful line of two-wheel walking tractors.
Once a machine was ready, Ben Gravely would load it up in his Studebaker Touring Sedan and drive out to find a farmer who was interested in purchasing it. The original plows sold for $150, which was considered a lot of money in those days, yet Gravely had little trouble selling them. Gravely spent five years working on the patent for his original machine.
On December 5th, 1916, Benjamin Franklin Gravely Jr. of South Charleston, West Virginia, received a patent for his Gravely Motor Plow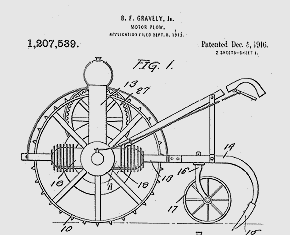 and by 1922 Gravely had started his own business, the Gravely Motor Plow and Cultivator Company, located in Dunbar, West Virginia.
Ben Gravely was a prolific tinkerer and inventor before, during, and after his involvement with The Gravely Motor Plow & Cultivator Company, and is said to have been awarded forty to sixty patents, depending on which source you choose to believe. Ben was also a photographer so some patents were for photographic equipment, but many were for Gravely tractors and other agricultural equipment.
Ben sold his stock in Gravely Tractor in 1940 and died thirteen years later. The company later moved to Charleston, North Carolina and, in 1964, Gravely entered the four-wheel garden tractor market with a Gravely Estate Tractor and then the Westchester model which both were not well recieved. Later, Gravely used a very successful and unique rear-engine design on their tractors.
The company was gradually acquired by the Studebaker Corporation by 1960 and was later sold off in 1982 by the Studebaker-Worthington Company,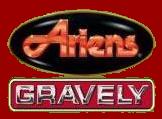 to the Ariens Company.
The Ariens Company, headquartered in Brillion, Wisconsin, still owns the Gravely brand today. Original Gravely based designs were discontuned around 2000, and the name was dropped entirely in the residential market in 2002. The name is still used by Ariens, who presently is producing a quality line of 'Gravely Commercial' lawn equipment.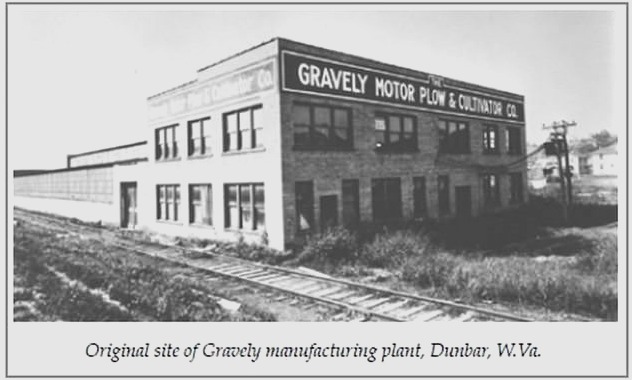 GRAVELY RIDING TRACTORS
In 1967, Gravely introduced its 400 series riding tractors, with the all-gear drive-train that would come to define the company in future years.
The tractor had four speeds, two in low range and two in high range, with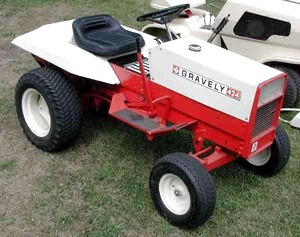 power configurations of single-cylinder 10, 12, or 14 horsepower Kohler or Onan engines. In 1969 was the debut of the 16.5 HP Onan CCKA twin-cylinder powered Commercial 450, the most powerful tractor the company offered at the time. The commercial-grade units were painted a characteristic yellow and white, while the home-use units were painted red and white.
The 400 series was produced until 1971, when Gravely introduced its replacement: the 800 series tractors, which gained popularity in the consumer market.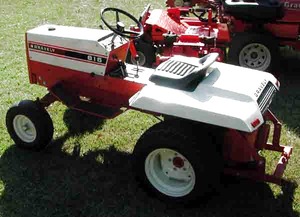 This tractor had eight speeds, with four speeds each in low and high range, with engine options ranging from a cast-iron 10 horsepower Kohler single-cylinder, to an 18-horsepower cast-aluminum twin-cylinder Onan.
The 800 series was replaced with the 8000 series by 1978, which offered more powerful engine configurations and an improved hydraulic lift option, yet retained the eight-speed transaxle. Many of the parts for the 800 and 8000 series designs, excepting the engine, are the same or compatible, and are readily available as new and used parts online, in a rather impressive after-market.
The 8000 series remained in production until 1987, when it was replaced by the professional-grade "G" series. The G series ended production in 2004.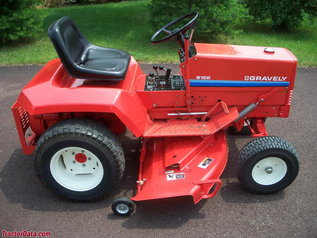 The eight-speed transaxle was standard on all 800 and 8000 series tractors, with the engine being the only major difference. The design of the drive clutches was visibly changed to a simpler arrangement around the early 1980s; the two designs are generally interchangeable. The rear-engine mounting and simple construction allowed Gravely owners to service and even upgrade their engines on their own.
Gravely also released an economy version of tractor in 1970, featuring a belt-driven 4-speed transmission and eight-horsepower (Kohler) engine, known as the 408. The engine was mounted at the front. This did not sell nearly as well as the popular all-gear units and was discontinued in 1977, when it was replaced with a heavy-duty professional grade of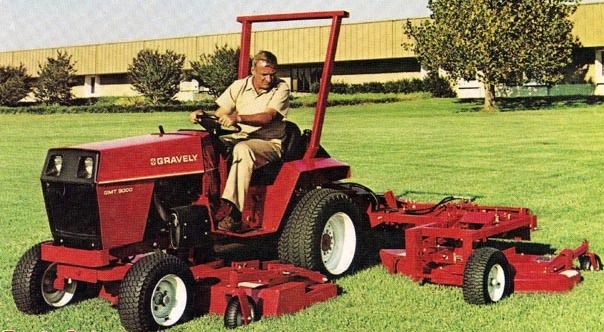 tractor known as the 900 series.
Another tractor of this type, called the GMT 9000 series was also released later that same year and replaced the 900 the following year until production ended in 1982. This tractor, much larger than the 8000 series and its predecessors, was equipped with a 27-horsepower I-4 water-cooled Continental engine.

If you do not already have it installed, Adobe Reader DC is needed to view
these files. When installing download 'Be Carefull'. If you do not want
McAfee Security installed, Or whatever else is being offered, be
sure to 'Un-Check' the checked boxes before downloading.


free download here
View 4 Restored 1970's Gravely
Tractors Still In Use Today

Tractors In Order Of Viewing
1) 1971 - 450 Commercial 2) 1972 - 816T Consumer
3) 1974 - 566 Walk-Behind 4) 1974 - 816S 48" Loader

Our Research Source
Gravely.com ~~~ AppalachianHistory.net ~~~ SherwoodsPowe.rcom
GTGravelyParts.com ~ StevenChalmers.com ~ GravelyYard.com
TractorData.com ~ GardenGuides.com ~ WVencyclopedia.org
GravelyManuals.com ~ Fairpoint.net ~ OldGravelys.Info
TTG The Tractor Guys, Research Division,
Western, Connecticut, USA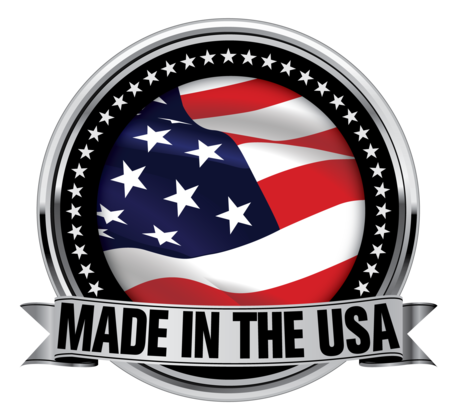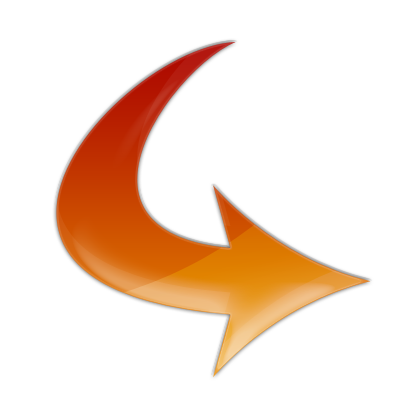 TTG Tractor Info Home Page Here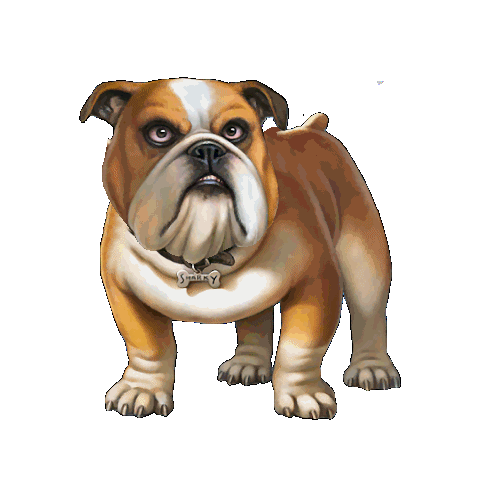 © 2011 ~ 2022 site was designed built and is maintained by
thetractorguysct.com all rights reserved