Back in the early 70's to help the dealers boost sales, Case
introduced the "Case Power Program" for their Agri-
cultural and Garden Tractors. Many changes
were made to further promote the
entire line of tractors.
In 1971 Case began to produce Garden Tractor as well as Farm
Tractor "Demonstrator" models.
At the Case Garden Tractor division, over time they produced two
types of "Demonstrator" models. The Black Knight Demo's
were from 1971, 1972 and 1973. The Golden Demo's
are from 1975 and 1976, which also marked the
end of the Demo program. Neither Case or
Ingersoll produced a Demo after the
1976 model year.
There was nothing special about a Demo model. Dealers could
order any lawn or garden tractor in 'Demonstrator Trim' and
pay a much reduced price for it. However, they were ex-
pected to take that unit to potential customers homes
and allow it to be used at that property in the hopes
that the customer would buy a Case machine.
The dealers could not sell these Demo Tractors until a prescribed
time frame was met and then the dealer was allowed to
sell these Demonstrator units to the public.
Case painted the 'Black Knight' fender assembly and the hood
in a semi-gloss black and then decked them out with a set
of decals unlike anything that had been used on the
regular line-up. The tractors were labelled
"DEMONSTRATOR" in large letters.
Below is what the Case "Golden Demo" looked like.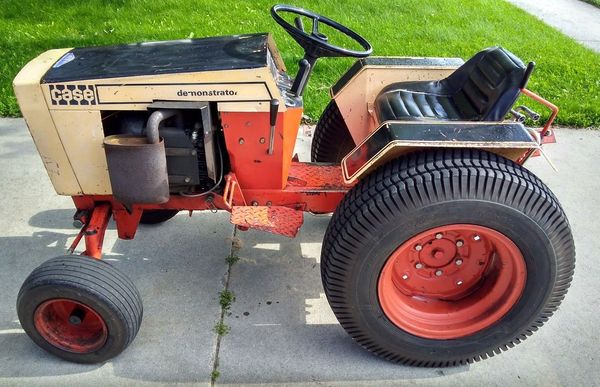 1975 Case 446 Golden Demonstrator Garden Tractor
Mfg: J.I. Case, Winneconne, Wisconsin, USA
1975 - 1976
The Demonstrator tractor was exactly the same as the regular
line-up tractor, the only difference was the paint
and decals.
The terms "Black Knight" and "Golden" Demo Tractors is a
name that the public placed on these tractors. I am not
aware of Case themselves coining this terminology.
A NOTE OF CAUTION . . .
If you a looking to purchase one of these tractors, Be Careful. There
are many "Fake Demonstrators" that have been made over the
years, just like fake muscle cars, fake paintings, etc. It's
not hard to create a Fake Demo for un-educated eyes.
The trick is how to distinguish a genuine Demo
from the Fakes.
There are no special particular serial numbers for Demonstrator
tractor models. The reason for that is when Case had a dealer
order for a demo, they just pulled the next tractor off the
production line and made it a Demo.
The S/N is a help of sorts to make sure it is in the production year time
frame, but sometimes that even overlaps. Look for original paint
and decals. Ask for the tractor's ownership documentation,
sales reciepts, etc. These are a couple of good steps
toward proving this tractor is a true factory
issued Demonstrator.


Serial Numbers and Production Years
All Tractor Models Chart ~ 1963 Thru 2000
Info .pdf