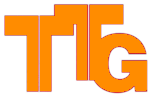 Decades Of Bolens History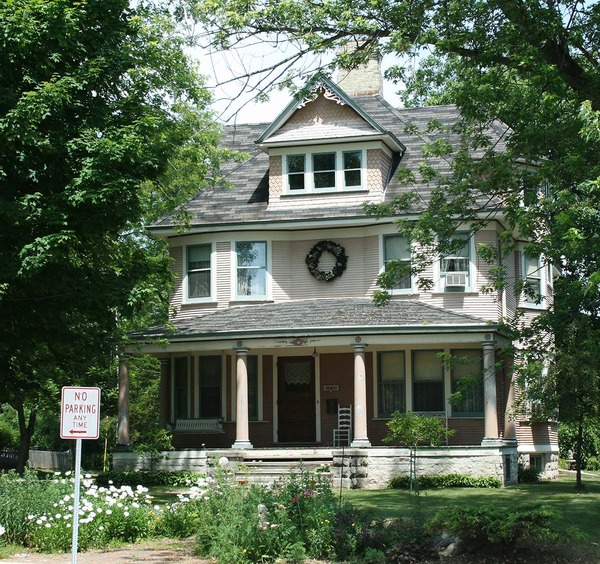 Harry W. Bolens Home, 1242 Grand Avenue, Port Washington, Wisconsin
( In 1983 Declared A National Historical Site )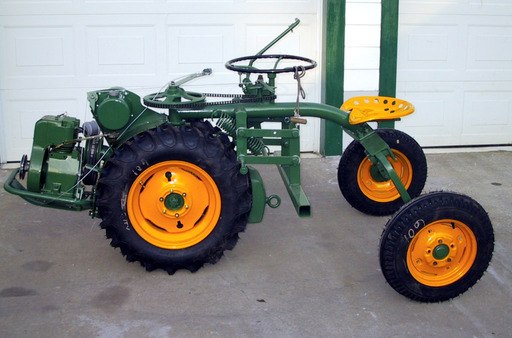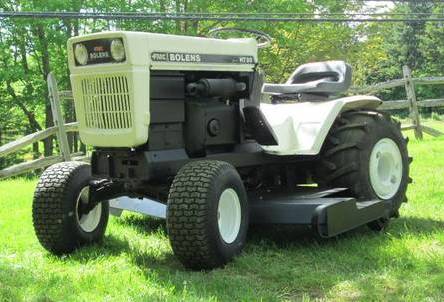 1954 Bolens Ridemaster 1977 Bolens HT20 Garden Tractor
1922 Advertisement - Gilson Manufacturing Company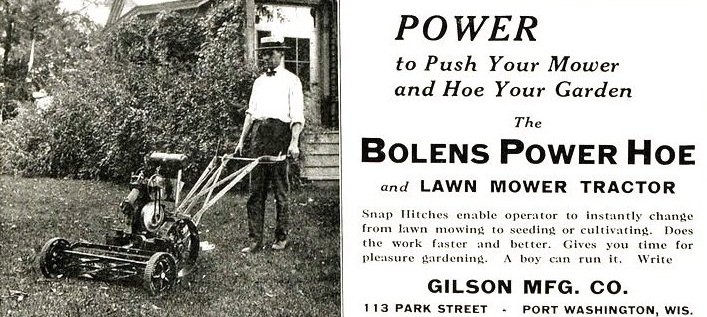 The Bolens Garden Tractor Story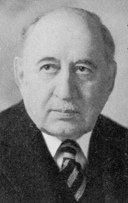 Harry Wilbur Bolens was born in Washington, Iowa, January 13, 1864. Not very much information has been recorded about his earlier life, his education or his family. He moved with his family to Wisconsin in 1866, settling in Janesville, Wisconsin. In 1879 they moved to Port Washington, Wisconsin. Harry had two daughters, Mabel Bolens Jaffe and Bessie Bolens Seltzer, who were living in Milwaukee, Wisconsin. He passed away in 1944 at the age of 80.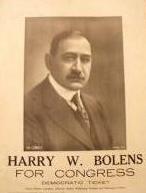 Harry's Dad Eugene B. Bolens was a newspaper man, and Harry followed in his father's footsteps and was the editor of the Port Washington Star and Sheboygan Daily Journal, a manufacturer and a moderately successful Democrat politician in the first half of the 20th Century. He was Mayor of Port Washington from 1906 to 1908 and again from 1910 to 1914. He served in the state Senate from 1933 to 1940. In 1920, Harry Bolens was a candidate for the United States House of Representatives from Wisconsin's 2nd congressional district. He lost to incumbent Edward Voigt. In 1938, he was a candidate for Governor of Wisconsin, losing to Julius P. Heil. He was also a delegate to the 1944 Democrat National Convention.
In 1891, The Gilson Manufacturing Company was organized by John Gilson Sr. and Harry W. Bolens for the manufacture of gasoline engines. Harry Bolens held the controlling interest in the Wisconsin plant and became secretary and sales manager of the company. The plant grew steadily and for many years manufactured practically all of the office chair irons in the world. Harry became president of the company in 1909. As gifted in design as he was in business administration, Harry over the years, was granted nearly 200 patents on chair and furniture fixtures, power garden tractors and lawn mowers. He was also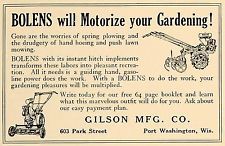 a founding member and a past President of the Wisconsin Manufacturers Association.
In 1914, Harry Bolens and Olaf Elton purchased the entire stock holdings, from the Gilson family, in the Gilson Manufacturing Company, located in Port Washington, Wisconsin for approximately $70,000. *(See Newspaper Clip Below) The "Bolens" brand name began appearing on Gilson equipment shortly thereafter. Harry Bolens introduced their first power-driven walk-behind garden tractor in 1919. Over the years the firmís name changed to the Gilson Bolens Co. in 1928 and to the Bolens Manufacturing Co. in 1939.
Harry Bolens continued to grow his Bolens company to become the worldwide leader in the manufacturing of Outdoor Power Equipment. Harry remained with the Bolens Companys for 48 years, 1891 thru 1939. Located in the same building since 1894, the company went on to invent and make the world's first self contained four wheel riding garden tractor, The first mulching mower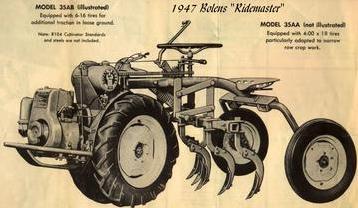 design that is still patented to this very day and one of the first hydrostatic transmissions implemented on a garden tractor.
In 1939 Bolens was acquired by Automatic Products Co of Milwaukee, Wisconsin. It was called the Bolens Products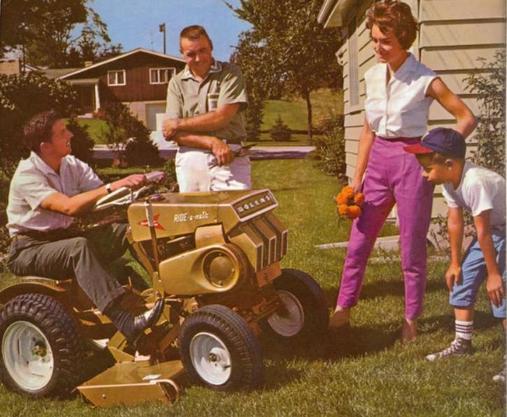 Division of Automatic Products Co. In 1945 Automatic Products Co, including Bolens was put up for sale but there weren't any takers, so they started upgrading equipment and selling off some other holdings, then in September of 1946 Automatic Products, including Bolens was sold to FMC.
As soon as the Food Machinery & Chemical Corp (FMC) acquired Bolens in 1946 they then implemented their own progressive engineering program. This began the era of highly "Collectable Bolens Tractors" as we know them to be today. In 1947 FMC Bolens introduced the first compact tractor called the Ridemaster. Bolens Continued to blow away the competition adding the Ride-A-Matic series garden tractors in 1958 with the Model 220, a Kohler 6.6 hp engine, and weighed in at a robust 420 lbs. FMC Bolens continued to produce the Ride-A-Matic up until 1962.
1962 was a very important year for Bolens. The Bolens Husky 600 was introduced to the world. This garden tractor boasted a 6 hp Briggs and Stratton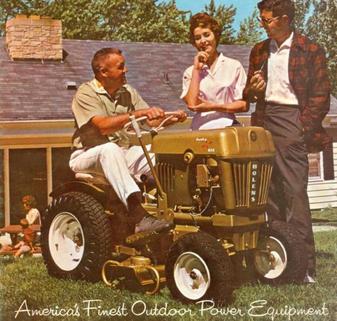 engine with a farm tractor type PTO that could run many attachments. The Bolens Husky 600 popularity and durability launched the "tube frame series" which made an incredible run of 16 years of production from 1962 to 1978. With each year that passed Bolens upped the standards by adding features and larger engines years ahead of other garden tractor makers.
One year later (1963) Bolens yet again improved their garden tractor lineup by introducing the Bolens Husky 800 which featured the cast iron 8hp Wisconsin engine. Bolens also startled the industry when the Bolens Estate keeper made its debut.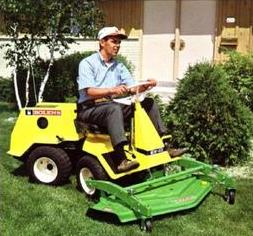 The Bolens Estate Keeper was expensive when new and they are rare and hard to find today. The fact that they articulated in the middle made them fun to ride and very good handling machines. The 1964 Estate Keeper with the cast iron Wisconsin 6 hp engine and center pivot steering, was way ahead of its time.
1966 saw another turning point in Bolens design when the Bolens Husky 1050 was introduced. This tractor was a more fine tuned version of the previous models, the Bolens 600, 800, 900 and the 1000 garden tractors. The Bolens Husky 1050 featured a 10 hp Wisconsin engine with a 6 speed transmission. The transmission had two speeds ie; hi / low built into the transmission. Lights were also sold as standard equipment.
The Bolens 1050 was designed to care for the largest lawn, park areas and country-sized gardens. Engineered to meet specifications for full time grounds maintenance and powered by a 10-hp engine, the Husky 1050 can cruise at over 500 feet per minute with a three-gang mower in tow The Bolens 1050 was sold from 1966 to 1969. Two more models were introduced into this series,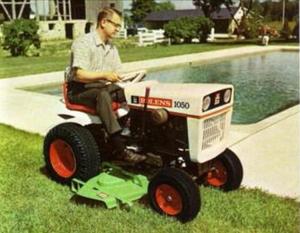 the Bolens 1053 in 1970 and the Bolens 1054 in 1971 and 1972. They were one of Bolens most popular and most marketed tractors. Bolens also used pro golfer Arnold Palmer as a marketing tool for advertising in the mid to late 60's.
Yet again in 1967 Bolens was one of the first companys to introduce another design ahead of it's time in their hydrostatic transmissions: "The Treadle Petal".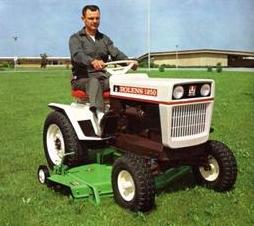 1967 also was the debut of the "large frame" Bolens tractor series. The Big husky 1250 featured a heavy duty transmission, a Eaton 12 hydro tranny, powered by a rugged 12 hp Wisconsin cast iron engine. In the following years even larger engines were used on the Large Frame Garden tractors. The 1455, 1476, and the 1477 featured the cast iron Wisconsin 14 hp engine. Bolens was still ... Not Done Yet !
In 1971 Bolens introduced the Model 1886 Large Frame Tractor, A Beast. This marked a new paramount for the Bolens large frame. This Big Tractor had teeth. A powerful 18 horsepower cast iron twin cylinder Kohler K482 engine now sits beneath the hood. Now you could push, plow, pull and pulverize nearly any obstacle. Dual hydraulics allowed for power blade angling and lifting from the driver seat. A huge new 54" center mount mower deck was easily mowing the most daunting landscapes ever seen by non-commercial property owners.
Only made for two years, the 1886 saw a total of 5 production runs. The 1886-01 thru 1886-04 were nearly all identical with only minor modifications from time to time. All still used the Eaton 12 hydrostatic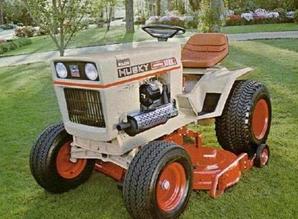 tranny until the 1886S-05 which was fitted with the new Sundstrand 15 hydro pump.
Bolens in 1973 launched the HT series garden tractor with yet another power boast, now fitted with a cast iron twin cylinder, 19.5 hp Kohler K532 Series engine and the Sundstrand 15 hydrostatic transmission. This HT20 machine was just about to do extraordinary things, with the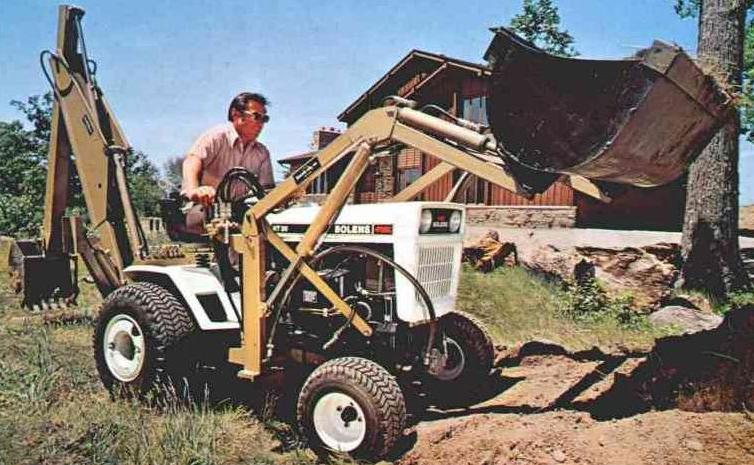 optional new Backhoe attachment to compliment the already available front end loader, Bolens now had a fully commercial powerhouse in the consumer buying market. This series consisted of the HT18, HT20, HT23, HT23D (diesel). The last year for this Bolens large frame garden tractor series was 1987. These big garden tractors could power just about anything. What more could anyone ask for?
In 1988, FMC Bolens Tractors was sold and purchased by GardenWay Inc., of Troy, New York. The new company introduced a Duratrac GT Series line of tractors, the 18 hp Duratrac GT-1800 and the 20 hp Duratrac GT-2000.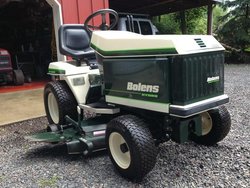 The duratrac series was a good line with a extra heavy duty frame, PTO, Hi/Lo hydrostatic transmission with cruise control and could be fitted with a front loader and backhoe. The Duratrac GT Series were produced from 1988 until 1993.
Then in 1993 GardenWay purchased Troy-Bilt, of Troy, New York. The GTX 16-18-20 hp series Tractors where made at the Bolens plant in Port Washington, Wisconsin. The GTX Tractors were manufactured from 1996 to 2001. In most garden tractor forums the Bolens by Troy-Bilt GTX models are known as the Cadillac of all Garden Tractors ever made. They had power steering, cruise control and a "massive" 60 inch mower deck.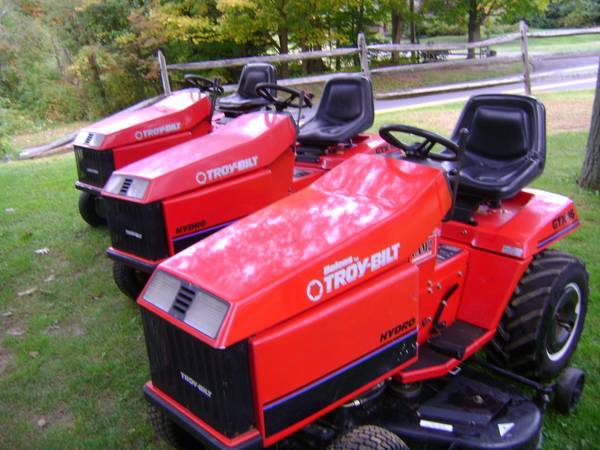 In 1999 a new GTX 20 purchase price with optional equipment cost over $9500.00. The company manufactured very durable, sturdy equipment but eventually in 2001 GardenWay Inc., filed for bankruptcy and is no longer manufacturing these tractors.
On Sept. 1, 2001 MTD Products Inc. out of Cleveland, Ohio, a family-owned, privite company since 1932, purchased most of the remaining assets under the Troy-Bilt© and Bolens© names from the bankruptcy court. The MTD purchase included the Troy-Bilt and Bolens brands but "Did Not Include" the debris lines (chipping, shredding, vacuuming and/or debris related equipment). GardenWay retained the debris lines until these assets were purchased by Murray Inc. in January of 2002. Finally in February 2005, Briggs and Stratton Power Products purchased bankrupt Murray Inc. which subsequently included the Garden Way Inc. debris equipment lines.

Thus began a vast decline in the quality of the China made
Bolens tractors of today. Luckily, there are still a
lot of these "Older Bolens Garden Tractors"
out there to be found.
Many people are now starting to Collect and Restore these
wonderful and powerful garden tractors.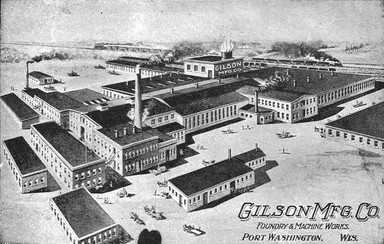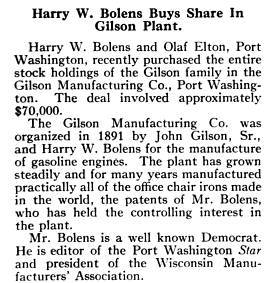 Opened In 1894 News Clip 1914


More "About Us and Old Iron" Here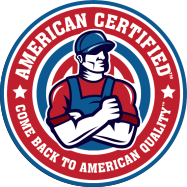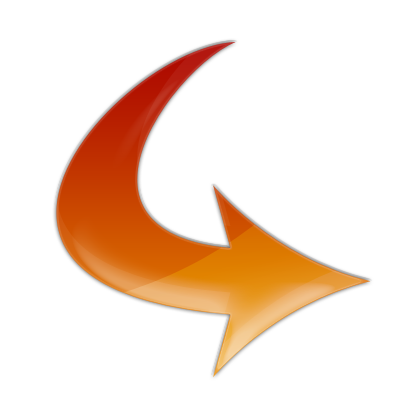 TTG Home Page Here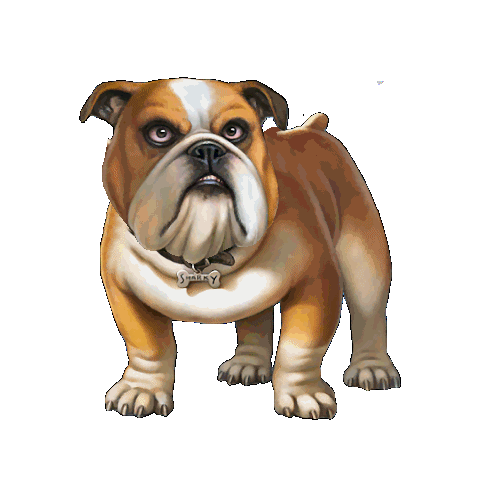 © 2011 ~ 2022 website was designed built and is maintained by
thetractorguysct.com all rights reserved