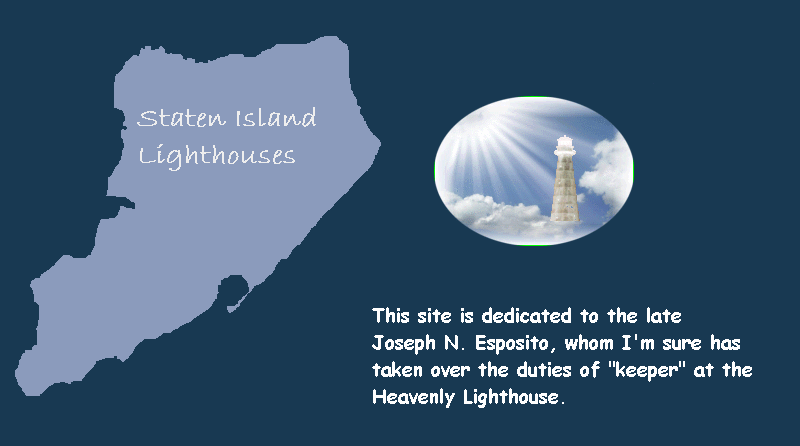 All lighthouses pictured below are either on the Island
or just a few miles off shore2>
(or no longer standing)


STATEN ISLAND LIGHTHOUSE

Photo that my friend, Joe Esposito sent to me
of a model of Staten Island lighthouse
that he built. This is just one model
of many that he built over the years...
to the right is a photo of Joe when he was
the lighthouse keeper.
The photo of Joe was sent to me by his daughter
shortly after his death in 2005

NEW DORP LIGHT
Located on Boyle Street,
on a hill above the town of New Dorp...
this light is now a private residence.

FORT WADSWORTH LIGHT
with Verrazano Bridge in background.
In 2002, Joe Esposito (shown above, hugging the lite)
proposed a plan to the National Park Service,
to restore this historic lighthouse.
It was approved. Thanks to the hardwork of volunteers,
the light was restored in approximately
a little over two years...
A re-lighting of the lighthouse took place
on September 24, 2005 but Joe Esposito,
was not there since he unfortunately
died a few months earlier...

I never met Joe in person but we
corresponded from time to time and became good friends...
he sent me many photos of the lighthouse models
that he built....

ROMER SHOAL LIGHT
This light is off shore between Staten Island
and the state of New Jersey...
it stands at 54 feet.


Joe Esposito with a model he built
of the Romer Shoal Lighthouse

THE GREAT BEDS LIGHT
Named the Great Beds Lighthouse,
after the oyster beds on which it stands
the tower has a height of forty-two feet.
Located off shore
between Staten Island and New Jersey.

OLD ORCHARD SHOAL LIGHT
Was located in Lower New York Bay,
approximately 2.5 miles offshore from
Great Kills Harbor on Staten Island.
Hurricane Sandy struck New York and New Jersey on October 29, 2012
Sandy swept away Old Orchard Shoal Lighthouse,
leaving behind just a mound of rip-rap and concrete landings.

WEST BANK LIGHT
The light can be seen distantly
from New Dorp Beach.

Vanderbilt Tower-New Dorp

Elm Tree Light
Miller Field, New Dorp Beach


Staten Island Light

With all the lighthouses that I've visited, from Maine to Florida,
Staten Island Light is definitely the most beautiful.

Prince's Bay Light
- then and now -
located on the grounds of Mt. Loretto
overlooking Raritan Bay.
As seen from the water...

Fort Tompkins
Below to the left is a photo of the
actual light but sadly it no longer stands...
to the right is the photo that Joe
sent to me of the model he created......his models are so life like
that it is impossible to tell which is
the actual and which is the model...

ST.GEORGE LIGHTHOUSE
Was located east of the St. George
Ferry Terminal but was dismantled in 1890.
This area is slated to become
home to the National Lighthouse Museum


Non-working light being used as a gimmick,
many, many years ago at Robbins Reef Auto in Tompkinsville...
A special thank you to Al, (clarkjac1)(acj1939)
from the S.I.nostalgia forum
for searching and then forwarding
a few of the photos that
have been added to my site...

ROBBINS REEF LIGHT
Last, but far from least, affectionately known as Kate's Light.
located one and a half miles north of S.I.
---
---
---
---
---
Click lighthouse below to return to my index page.


---
"Lady in Loft Productions"





ęCopyright 2000 "ladyinloft" All Rights Reserved