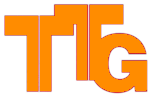 The Tractor Guys
Time-Line Encyclopedia Of Our
Antique Farm Tractor's In America
1804 Thru 1959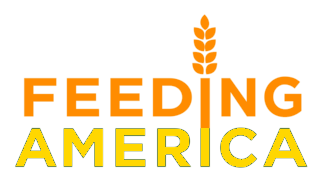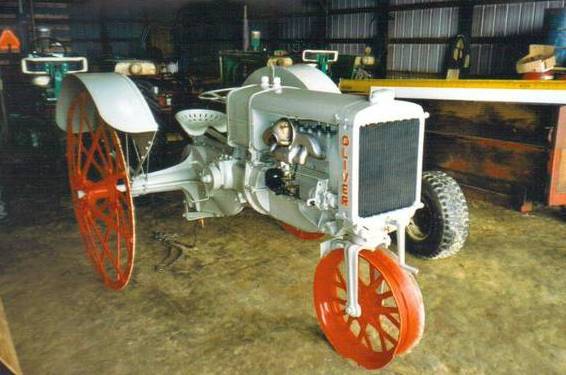 Pre-1929 Oliver Chilled Plow Works Tractor
( Only One Exists Today )
Antique Tractor Trivia and then some . . .
Note Time-Saver: On PC's, use the "Find Box" to search for specific tractor info on this page. Hold down the Ctrl key, tap the letter F, type in word or words in box, click next. Whatever you typed into the box, if it exists on this page, will be highlighted through-out the page.
1804 ~ 1826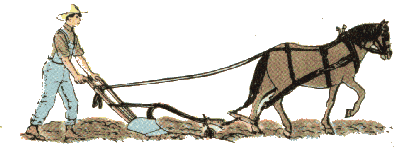 1804
John Deere was born in Rutland, Vermont. In 1808 his father left for England, in the hopes of claiming an inheritance, and was presumed to have died at sea and never heard from again. Subsequently John was raised by his mother. After a brief educational period at Middlebury College, at age 17 in 1821, he began an apprenticeship with Captain Benjamin Lawrence, a successful Middlebury blacksmith, and entered the trade for himself in 1826. He married Demarius Lamb in 1827 and fathered nine children.
John Deere settled in Grand Detour, Illinois in 1836. At the time, Deere had no difficulty finding work due to a lack of blacksmiths working in the area. Deere found that cast-iron plows were not working very well in the tough prairie soil of Illinois and came to the conclusion that a plow made out of highly polished steel and a correctly shaped moldboard (the self-scouring steel plow) would be better able to handle the soil conditions of the prairie, especially its sticky clay. In 1868 he incorporated the Deere & Company. In 1886 John Deere died in May at his home (known as Red Cliff) in Moline, Illinois at age 82.
By 1886, the company was deeply engaged in the steam-traction-engine business, becoming America's leading producer of steam-powered platforms from 9 to 110 hp. Several specialty platforms were also produced, including nine 150hp hauling rigs. Steamrollers for road construction could also be ordered. Being the established leader in the field, Case traction engines were noted for their construction, longevity, horsepower, and design.
1809
Cyrus Hall McCormick was born in the Shenandoah Valley of Virginia. He was the eldest of eight children born to inventor Robert McCormick Jr. and Mary Ann "Polly" Hall. Cyrus' father Robert saw the potential of the design for a mechanical reaper, he applied for a patent to claim it as his own invention. He worked for 28 years on a horse-drawn mechanical reaper to harvest grain; however, he was never able to reproduce a reliable version.
Cyrus took up the project. He was aided by Jo Anderson, an enslaved African American on the McCormick plantation at the time. The Cyrus McCormick design was pulled by horses and cut the grain to one side of the team. He founded the McCormick Harvesting Machine Company. The McCormick's became one of the wealthiest families in America. In 1884 Cyrus H. McCormick died at home in Chicago at age 75.
1819
Jerome Increase Case was born to a Williamstown, New York farming family. His father was Caleb Case and mother Deborah Jackson. He was one of seven children. Through his mother he claimed to be related to Andrew Jackson. Jerome was an early American manufacturer of threshing machines and tractors. He was the founder of the J.I. Case Companies. In 1891, J. I. Case died in December at his home in Racine, Wisconsin at age 72.
1823
Meinrad Rumely was born in Adelsburg, Germany being a son of Joseph Rumely, a farmer and weaver. Meinrad arrived in America in 1848. He founded in 1853 the M. Rumely Company producing the Rumely Oil Pull steam-powered traction engines among other things. Meinrad died at his home in La Porte, Indiana in March, 1904 at age 81.
James Oliver was born in Liddesdale, Scotland the youngest of the nine children of Mary Irving and George Oliver. His father was a shepherd but found it difficult to earn an income to support his family. With his family James immigrated to the U.S. in 1835 to a farm in Alloway, New York. He eventually founded the Oliver Chilled Plow Works. James Oliver died at the age of 84 at his home in South Bend, Indiana.
1824
Edward P. Allis was born in Cazenovia, New York, the son of Jere Allis and Mary White. He was raised in relative comfort and prosperity on his father's farm in upstate New York and a graduate of Union College in 1845. Allis moved to Milwaukee, Wisconsin in 1846 and started a leather company with a tannery in Two Rivers.
In 1860 he purchased an iron products manufacturing company and later a business that involved making flour mill apparatus in Wisconsin called "Reliance Iron Works". He founded the Edward P. Allis & Company which later merged into the Allis-Chalmers Manufacturing Company in 1901. Edward P. Allis died in April, 1889 at his home in Milwaukee, Wisconsin at age 64.
1826
William Deering was born April 25, in South Paris, Maine, a small town about 40 miles north of Portland. His family owned a wool mill in South Paris, where young William apprenticed earning $18 per month. Deering was an American businessman and philanthropist. He inherited the woolen mill in Maine, but made his fortune in later life with the Deering Harvester Company.
William Deering's contributions to the industry remain an enigma to some collectors. He never designed a single piece of machinery, but Deering managed to turn other people's ideas and inventions into an empire that eventually became the International Harvester Company. William Deering lived to see the business prosper before he died December 9th, 1913, in Coconut Grove, Florida at age 87.
1833 ~ 1849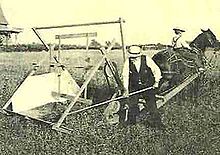 1834 Cyrus McCormick Reaper
1833
Obed Hussey in Ohio patented a reaper in 1833, the Hussey Reaper. Made in Baltimore, Maryland, Hussey's design was a major improvement in reaping efficiency. The new reaper only required two horses working in a non-strenuous manner, a man to work the machine, and another person to drive. In addition, the Hussey Reaper left an even and clean surface after its use.
Obed Hussey was an American inventor, born in Hallowell, Maine to Quaker parents. In his youth, he was a sailor on a whaling ship, but eventually he moved to Cincinnati, Ohio. He tested and patented a reaper in 1833, which placed him in fierce competition with inventor Cyrus McCormick of Chicago, Illinois. Both men made several patented innovations to the reaper, until Hussey was finally driven out of business. He sold the rights to McCormick in 1858. Two years later, attempting to board a train in Exeter, New Hampshire, Hussey fell beneath the cars and died.
1834
The McCormick Reaper was designed by Robert McCormick in Walnut Grove, Virginia in 1834. However, Robert became frustrated when he was unable to perfect his new device. His son Cyrus asked for permission to try to complete his father's project. With permission granted, the McCormick Reaper was patented by his son Cyrus McCormick in 1837 as a horse-drawn farm implement to cut small grain crops. Cyrus eventually forms the McCormick Harvesting Machine Company in 1879.
1836
John Deere with his wife and four children, and a fifth on the way, sold his blacksmith shop in Middlebury, Vermont, to his father-in-law, and moved to Grand Detour, Illinois to escape bankruptcy in Vermont.
1837
John Deere being a blacksmith, fashions a highly polished cast steel plow mold board for use on the thick prairie soil. Deere had opened a 1,378 square-foot shop in Grand Detour, Illinois which also allowed him to serve as a general repairman in the village. By 1855 his factory was selling more than 10,000 plow units a year.
1838
John Deere forms the John Deere Manufacturing Company in Grand Detour, Illinois.
Daniel Best was born in March in Tuscarawas County, Ohio. In 1839, Daniel Best's father, John, moved the family to Missouri. There he built a saw mill and proceeded to cut lumber for the local pioneers. In 1847, the family moved again to Lee County, Iowa. Here they took up farming. In 1859 Daniel, desiring adventure, and wanting to follow his brother, joined a wagon train heading west to Fort Walla Walla, Washington, employed as an ox tender and a sharpshooter.
Shortly thereafter he then moved to Sutter County, California to work with his brother, Henry Best, on his ranch, where he discovered his calling as an inventor. Over a period of 43 years, Daniel Best received 41 patents, ranging from an improved washing machine to combine harvesters. The C. L. Best Tractor Company was formed which eventually merged into the Caterpillar Tractor Company. In August 1923 Daniel Best died in Oakland, California at age 85.
1842
Thomas Chalmers was a Scottish immigrant to the U.S. By 1844 he was at Chicago, Illinois and had found work with P.W. Gates, whose foundry and blacksmithing shops produced plows, wagons, and flour-milling equipment. His son William J. Chalmers who was born in 1852, became a founder of the Allis-Chalmers Manufacturing Company in 1901.
J. I. Case in the spring of 1842, bought six small 'groundhog' threshing machines, on credit, and started for the territory of Wisconsin. He disposed of all his machines, except one, which he operated himself as a thresher man. Over the next couple of years Case made improvements to the one 'groundhog' machine he did not sell and built his own model in 1844. This is unofficially the beginning of the future J. I. Case companies.
John Deere entered a business partnership with Leonard Andrus and purchased land for the construction of a new, two-story factory along the Rock River in Illinois.
1844
J. I. Case built his first threshing machine, in Racine, Wisconsin, which embodied many ideas of his own, and in doing so laid the foundation of the largest manufacturing concern of its kind in the world. For a number of years he continued to do business in a small way, at the close of each year finding him a little in advance of the previous year.
1848
"Nichols and Shepard Company" was an American partnership company. In 1848, John Nichols opened a blacksmith shop in Battle Creek, Michigan. In the blacksmith shop, John Nichols began making various farm tools for local farmers. He built his first thresher/separator in 1852.
The business was successful from the start, so successful that some time in the 1850's he took on a partner by the name of David Shepard. Together they formed a partnership known as Nichols, Shepard and Company which manufactured farm machinery, steam engines and mill machinery. In 1929 the Nichols and Shepard Company was acquired by the Oliver Farm Equipment Company.
John Deere's partnership with Leonard Andrus ended, and Deere relocated to Moline, Illinois to have access to the railroad and the Mississippi River.
John Deere in Moline, Illinois, formed a partnership with Robert Tate and John Gould and built a 1,440 square-foot factory.
1849
Benjamin Leroy Holt was born in January in Concord, New Hampshire. He was the youngest of four brothers and eleven siblings, the children of William Knox Holt and first, Eliza Jane Virgin, and later Harriet Parker Ames. Benjamin Holt went to California in 1883. The Holt brothers formed the Stockton Wheel Company.
Benjamin Holt produced his first horse-drawn "Link-Belt Combined Harvester." This machine used flexible chain belts rather than gears to transmit power from the ground wheels to the working mechanism. The Holt Manufacturing Company was formed and later on changed the company name to the "Catterpiller" company in 1892. Benjamin L. Holt died in Stockton, California in December 1920 at the age of 71.
Gaar-Scott & Company founded in Richmond, Indiana and eventually produced threshing machines and steam traction engines.
John Deere, formed the Deere, Tate & Gould Company. By now they were producing over 200 plows a month. A two-story addition to the plant in Moline, Illinois was built, allowing further production.
1852 ~ 1872

1857 Oliver Chilled Plow Logo
1852
William J. Chalmers was born in July in Chicago, the son of Thomas and Janet Tesler Chalmers. Educated in the public school system, at 14 years of age he became an apprentice in the machinist trade. He would remain at the shop for four years learning the details of machinist engineering. He would go on to become a founder of the Allis-Chalmers Manufacturing Company in 1901. Bill Chalmers died in December 1938 at age 86 at his home on Geneva Lake, Collie Point, Illinois.
John Deere buys out his partners. For the next 16 years, the company is known variously as John Deere, John Deere & Company, Deere & Company, and Moline Plow Manufactory.
1853
M. & J. Rumely Company is formed. Meinrad Rumely immigrates from Germany to La Porte, Indiana at age 25. He starts a repair shop with brother John which eventually becomes the M & J Rumely Oil Pull Company.
John Deere bought out Tate and Gould's interests in the company and was joined in the business by his son Charles Deere.
1854
James George Cockshutt birth date is unknown but he was was born in Brantford, Canada and educated there. James was the son of Ignatius Cockshutt a very successful Toronto and Brantford, Ontario merchant. In 1877 he founded the original Cockshutt factory, the Brantford Plow Works at Brantford, Ontario. In 1882, the business was incorporated as the Cockshutt Plow Company, with James G. Cockshutt as president. At that time, he employed about 50 workers. In October 1885, James Cockshutt died as the result of tuberculosis at 34 years of age.
Managers bearing the Cockshutt name continued to operate the company. 1958 was the year that Cockshutt lost control and was bought out by "Corporate Raiders." Large blocks of shares were purchased on the open market. It took less than 3 million to buy a company that had assets exceeding 33 million dollars. What a shame! Another "Wall Street Money Crab" that wrecked a good company along with the loss of many good paying jobs. This was the end of the Cockshutt tractor as it was known for so many years.
The Cockshutt company was subsequently sold to the White Motor Company in January 1962. White used the popular Cockshutt brand name until 1977, although no Cockshutt tractors were made after 1962. Rather, White who also bought Oliver, sold Oliver tractors that were painted red and rebranded as Cockshutt.
1855
James Oliver moved to South Bend, Indiana where he entered into a partnership with two businessmen to operate a small foundry. His investment gave him a ¼ ownership of the foundry. The company was named the "South Bend Iron Works," and Oliver oversaw its operations.
Buford & Tate company was formed to manufacture plows in Rock Island, Illinois. The company was later called Buford & Co. before being renamed Rock Island Plow Co. in 1882.
1857
James Oliver at the "South Bend Iron Works," received his first patent on his Chilled Plow. It covered a unique chilling process for the plow, which Oliver had developed. This Chilled Plow had a very hard outer skin and was able to scour in heavy, sticky soils in the Midwest, because of his "patented Annealing process." During his lifetime Oliver registered 45 patents on his Chilled Plow. His company grew to become one of the world's largest producers of farm plows during the late 19th Century.
1858
John Deere, because of a nationwide financial recession, to prevent bankruptcy, the company was reorganized and Deere sold his interests in the business to his son-in-law, Christopher Webber, and his son, Charles Deere. John Deere served as president of the company until 1886.
1859
M. & J. Rumely Co. won the first prize for threshing, over 12 competitors at the Illinois State Fair in Chicago.
1863
Henry Ford was born in July on his family's farm in Greenfield Township, Michigan. When Ford was 13 years old, his father gifted him a pocket watch, which the young boy promptly took apart and reassembled. Friends and neighbors were impressed and requested that he fix their timepieces too. Unsatisfied with farm work, Ford left home at the age of 16 to take an apprenticeship as a machinist at a shipbuilding firm in Detroit. In the years that followed, he would learn to skillfully operate and service steam engines and would also study bookkeeping.
In 1888, Henry married Clara Ala Bryant. The couple had a son, Edsel, in 1893. Henry died of a cerebral hemorrhage on April 7, 1947, at the age of 83, near his Dearborn estate, Fair Lane. Its been said that in todays dollars, Henry Ford's net worth would be equal to around $199 Billion.
J. I. Case & Company was formed in 1863, in Racine, Wisconsin, a co-partnership with Stephen Bull, R. H. Baker and M. B. Erskine. These men formed an ideal combination for the growth and development of the business. From this time forward the business steadily expanded.
1864
John Deere obtains the company's first actual patent for molds used in casting steel plows. Another follows in a few months and a third the next year.
1865
J. I. Case & Company history would be incomplete were there failure to make reference to its trademark. Case introduced their new "Eagle Logo" for the first time.
The 'Case Eagle' is far more than merely a trademark. She is a character out of history, a live bird with a personality and a story all her own. The logo is based on a eagle that became the Wisconsin 8th Regiment's Civil War mascot that they named 'Old Abe', after Abe Lincoln who was president at the time.
The story begins when the eaglet had fallen out of its nest in the early spring of 1861 and found by a Chippewa native American who sold the eaglet for a bushel of corn to a settler named Daniel McCann to raise as a pet. The eagle was getting too large for McCann to keep. The Civil War was beginning and soldiers have a weakness for mascots. He sold the eagle for $2.50 to Capt. Perkins, the Wisconsin 8th Regiment's Company 'C' commander and it became their mascot in the war.
Throughout the bitter, unhappy Civil War struggle, 'Old Abe' went through 36 battles and skirmishes, and the 8th Regiment was known as the Eagle Regiment. 'Old Abe' was in her glory during battle. It was then that her eye flashed with uncommon luster. With her wild piercing cry, she was familiar to men on both sides of the fight and gained equal respect as one of the brave and courageous fighters.
After the war the eagle became very famous across the country, appearing at many parades and functions. In 1881 'Old Abe' died at Wisconsin's State Capitol, from smoke inhalation after enduring a fire. She had lived there for many years. 'Old Abe' was 20 years old when she passed. A monument of 'Old Abe' still stands in front of the Wisconsin State Capitol today.
J. I. Case encountered the eagle while on a business trip to Eau Claire where the Wisconsin's 8th Regiment was parading. Over the rumble of drums and the tramp of marching feet, the bird was screaming her battle cry. Case questioned a boy standing along side him, "Where did it come from, the eagle?" The boy told him 'Old Abe's story. Then and there J. I.Case was determined to adopt the eagle 'Old Abe' as the symbol of his business.
In 1969, the J. I. Case Company introduced a new series of agricultural tractors christened the "Agri-King" line. At the same time, after more than 100 years, the 'Old Abe' eagle emblem and trademark were retired and replaced by a new corporate symbol, the Casemark.
The "Candee, Swan & Company" was started by Henry Candee and R. K. Swan in 1865. Associated with them were Mr. L. E. Hemingway (a relation to Ernest Hemingway), J. B. Wyckoff and others. Initially, they produced fanning mills and hay-racks, and shortly after Andrew Friburg associated himself with the company and the manufacture of Moline Plows was taken up.
1866
"Watertown Steam Engine Company" was located in Watertown, New York and began in 1866 and owned by the Palmer Brothers. The business was started with $40,000 and had 35,000 square feet of flooring for large boiler and blacksmith shops, store houses, etc.
It's capital then increased to $200,000 and the business employed 100 men, turned out 400 steam engines, saw mills, and agricultural engines. These were sold all over the US, Canada, Cuba and probably other parts of the world. Much of the cast iron they used was produced locally.
It held patents on a portable steam engine with the cylinder and valve chest integral with the boiler steam dome, and a riding cut-off valve. The first patent was in 1871. The "First Portable Steam Engine" made in the United States was made in Watertown, New York in 1847.
Many of the Watertown Steam Engine Company's portable steam engines exist today, in private collections or in museums. There is no indication of when the business shut down but there are some collectors who have Watertown Steam Engine Company steam engines manufactured as late as 1920.
1868
Charles H. Parr was born in March in Wisconsin, the son of Martha and John Parr. He had five siblings. He attended high school at Dodgeville, Wisconsin before attaining a degree in mechanical engineering from the University of Wisconsin in Madison, where he met his future partner Charles W. Hart which eventually led to the founding of the Hart-Parr company. Charles died June 10, 1941, in Los Angeles, California.
John Deere after 31 years as a partnership or single proprietorship, is incorporated under the name Deere & Company. There are four shareholders at first, six within a year. Charles and John Deere control 65 percent of the stock.
James Oliver's South Bend Iron Works was incorporated and changed its name to the "Oliver Chilled Plow Works." It wasn't long before the company grew to 400 employees and produced 300 Oliver plows every day. By the time Oliver died in 1908, his plows were at work in the British Isles, Japan, France, Germany, Mexico, Sweden, Greece and several South American countries. The Company advertising bragged that Oliver was "The Plow maker of the World."
1869
J. I. Case & Company is recognized as the first American producer to bring the power of the steam engine to farming, Case developed his first portable steam engine in 1869 to belt power threshing machines for wheat. Several horse teams pulled the steam units to the threshing sites.
Charles Deere and Alvah Mansur establish the first John Deere branch, Deere, Mansur & Company, in Kansas City. A semi-independent distributor of Deere products within a certain geographic area, it is the forerunner of the company's current farm and industrial-equipment sales branches and sales regions.
1870
The "Moline Plow Company" was incorporated with the reorganizing of the Candee & Swan Company. The "Moline Plow Company" name was brought about by a court victory over John Deere and the use of the Moline name, that although Deere could make claims for improvements on the plow, the form and function was not new exclusively to him, nor was the Moline name.
1871
The McCormick Company factory was completely destroyed in the Great Chicago Fire. McCormick built a new factory with increased capacity and began to pursue overseas markets in earnest. By the early 1880s, the company had expanded into markets as far away as Russia and New Zealand.
1872
Charles W. Hart was born near Charles City, Iowa, attended local schools, and worked for his father's lumbering and farming operations in and around Charles City. As a teenager, he recognized the potential of gasoline engines as a labor saver for American farmers. He then attended Elliott Business College in Burlington, Iowa, and Iowa Agricultural College before transferring to the University of Wisconsin in 1892. There he met fellow student Charles H. Parr and they both eventually formed the Hart-Parr company. Charles W. Hart died from a heart attack in Missoula, Montana in 1937.
The M. Rumely Company developed a portable steam engine that could be horse-drawn from one farmyard to another and linked to a thresher with a driving belt. A decade later, it introduced a steam traction engine that pulled the threshing machine and water wagon.
1876 ~ 1899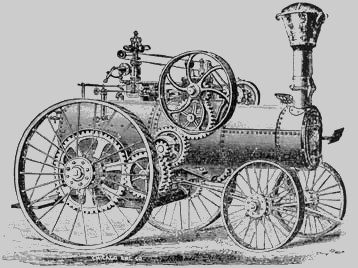 Case 1st Steam Traction Engine
1876
John Deere registered their first trademark using the leaping deer although registration papers indicated the mark had been in use for three years. John Deere was well established in Moline by this time. The company was producing more than 60,000 plows a year, which were commonly referred to as "Moline plows" because of the factory location.
J. I. Case & Company produced the first steam powered traction engine in 1876. The huge self propelled platforms utilized steam power with a gear driven mechanism for forward mobility but still required horses to steer the engine platforms. The Case steam engine was awarded a gold medal of excellence at the Centennial Exposition in Philadelphia.
James George Cockshutt founded the original Cockshutt factory and the Brantford Plow Works at Brantford, Ontario.
1879
McCormick Harvesting Machine Company was incorporated. The company continued to expand abroad, reaching as far as New Zealand.
The Gammon & Deering Company's name changed when William Deering became the sole owner and the company new name was the "Deering Harvester Company."
1880
J. I. Case & Company co-partnership, organized in 1863, is dissolved and the "J. I. Case Threshing Machine Company" is incorporated in Racine, Wisconsin. The company operated under this name for 48 years until in 1928, the name changes again to, the J. I. Case Company.
1881
McCormick Company introduced the first of many twine binder machines.
1882
James George Cockshutt changes the Brantford Plow Works name to the Cockshutt Plow Company incorporated in Brantford, Ontario.
The Buford & Company changed its name to the "Rock Island Plow Company."
1884
Cyrus Hall McCormick founder of the McCormick Harvesting Machine Company died at home in Chicago at age 75.
The Moline Plow Company introduced the "Flying Dutch-man" sulky plow, which claimed to revolutionize the sulky plow business the world over. Previous to that time sulky plows had been of the two wheels variety and so it was claimed, "all others of this design are followers of the world-famous Flying Dutch-man." The sale of this plow did a great deal towards the building up of the business and making the line manufactured by the Moline Plow Company popular with the farming community.
1885
James George Cockshutt (Cockshutt tractors) died as the result of tuberculosis on October 23, at age 34.
1886
M. Rumbly introduced a new straw burning steam engine.
John Deere died in May at his home (known as Red Cliff) in Moline, Illinois at age 82.
John later in his life focused most of his attention on civil and political affairs. He served as President of the National Bank of Moline, a director of the Moline Free Public Library, and was a trustee of the First Congregational Church. Deere also served as Moline's mayor for two years but due to chest pains and dysentery Deere refused to run for a second term.
J. I. Case Threshing Machine Company by 1886, was deeply engaged in the steam traction engine business, becoming America's leading producer of steam powered platforms from 9 to 110 hp. Several specialty platforms were also produced, including nine 150hp hauling rigs. Steamrollers for road construction could also be ordered. Being the established leader in the field, Case traction engines were noted for their construction, longevity, horsepower, and design.
1887
M. Rumely Company incorporated. Just prior to this Meinrad had bought out his brother John's portion of the business.
J. I. Case Threshing Machine Company in 1897, to further to meet modern conditions, an entire change in the management of the company was effected, younger men, many of whom had been trained for years in the modern school of business, assuming active control of the management of its affairs. The wisdom and wise business policy of the new management is evidenced by the development of the many other machines invented and manufactured by the company, including Case steam, kerosene and gasoline engines, threshing machines, etc.
1889
Edward P. Allis died in April at his home in Milwaukee, Wisconsin at age 64. At the time of Allis' death, the E. P. Allis Company employed more than 1,200 workers and earned over $3 million dollars a year. Long after his death, the company merged into the Allis-Chalmers Manufacturing Company in 1901.
1890
J. I. Case Threshing Machine Company saw the company expanding into other countries, with South America targeted first. A manufacturing plant was built to supply this market in Argentina. Company founder J.I. Case lived just long enough to see this expansion before he passed away in 1891.
1891
Jerome Increase Case (Case tractors) died in December at his home in Racine, Wisconsin at age 72.
J. I. Case's son-in-law, Henry M. Wallis Sr., takes over the presidency of J.I. Case Plow Works in 1891 after Case's death. He later founded the Wallis Tractor Company in 1912.
1892
Rudolph Diesel develops new engine while still a student.
Holt Manufacturing Company, Stockton, California was the first company to successfully manufacture a continuous track tractor. By the early 20th century, Holt Manufacturing Company was the leading manufacturer of combine harvesters in the US, and the leading California-based manufacturer of steam traction engines. Holt changed the name of the company to Holt Caterpillar Company, although he did not trademark the name Caterpillar until 1910.
Charles W. Hart and Charles H. Parr meet as mechanical engineering students at the University of Wisconsin in Madison. They both are interested in internal combustion engines and begin to research and design various models.
J. I. Case Threshing Machine Company began experimenting with gasoline engines in 1892. The motorized unit, dubbed the Paterson Tractor, was not successful and the company did not prototype gasoline powered units again until 1911.
1893
The Waterloo Gasoline Engine Company was the first company to manufacture and sell gasoline powered farm tractors. Based in Waterloo, Iowa, the company was created by John Froelich and a group of Iowa businessmen in 1893, and was originally named the Waterloo Gasoline Traction Engine Company.
In 1892, Froelich had invented the first practical gasoline-powered tractor, and the new company was given the opportunity to manufacture and sell the tractor Froelich designed. Unfortunately, the tractor was not successful commercially, and of the four tractors built by the company only two were purchased, and these were later returned to the company by unsatisfied customers.
Rudolf Diesel designed many heat engines, including a solar-powered air engine. He published a paper describing an engine with combustion within a cylinder, the internal combustion engine. In Augsburg, Germany on August 10, 1893, Rudolf Diesel's prime model, a single 10-foot iron cylinder with a flywheel at its base, ran on its own power for the first time. During one experiment Diesel was almost killed by his engine when it exploded. In 1894, Rudolf filed for a patent for his new invention, dubbed the diesel engine.
1895
J. I. Case Threshing Machine Company had begun to produce gasoline engines. Case was the most prolific North American builder of engines: these ranged in size from the diminutive 9 HP, to the standard 15, 25, 30, 40, 50, 65 HP and up to the plowing 75 and 80 HP sizes. Case also made the large 110 HP breaking engines with its notable two story cab. Nine massive 150 HP hauling engines were made, in addition to steam rollers. Case engines were noted for their use of Woolf valve gear, feedwater heaters, and the iconic 'eagle' smokebox covers.
1896
Charles Hart and Charles Parr graduated from the University of Wisconsin with degrees in mechanical engineering in June. They received special honors for their thesis on internal combustion engines for which they had designed, and built, five successful gas engines. Following graduation, they built a small factory in Madison, Wisconsin, and Hart-Parr started manufacturing gasoline engines.
A few years later, Hart-Parr was recognized by the American Society of Agricultural and Biological Engineers and the American Society of Mechanical Engineers as the builder of the 'first' commercially successful tractor with an "internal combustion engine."
Milwaukee Harvester Company and Champion Reaper Works merge into the International Harvester Company.
Massey Mfg. Company and A. Harris, Son & Company, merge in Ontario to become Massey-Hassis, Canada's largest agricultural firm.
1899
J. I. Case Threshing Machine Company entered the Russian market.


1900 ~ 1909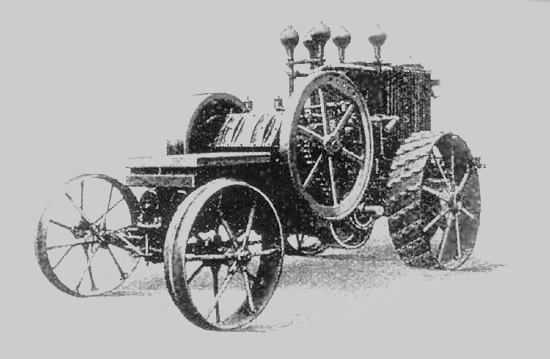 1st Hart-Parr Gas Traction Eng.
1900
The Rock Island Plow Company by this time was manufacturing corn planters, walking cultivators, tedder rakes, plows, side delivery rakes, Windrow loaders and other products, like the Great Western cream separator, feed mills, Linstroth wagons and potato machinery, at their plant in Rock Island, Illinois.
1901
Hart-Parr produces its first gas-traction engine (17-30) and also builds the first factory for producing farm tractors "Exclusively." Plant was built in Charles City, Iowa. Hart-Parr's gas traction engine was assembled during the winter, a Type L (30 hp) 9-inch bore stationary engine was mounted on a pipe frame chassis, using steam engine wheels.
E. P. Allis & Company merged with Gates Iron Works and Fraser & Chalmers Company to create "Allis-Chalmers Manufacturing Company."
1902
Hart-Parr in July sold their first tractor, Type L (30 hp), to David Jennings of Clear Lake, Iowa.
J.P. Morgan in 1902 helps work out the integration of the McCormick Harvesting Machine Company, Deering Harvester Company, Plano Mfg. Company, Milwaukee Harvester Company, Champion Reaper Works, and many smaller companies, merge to create the "International Harvester Company."
From 1902, when IHC was formed, to the early 1920s, the McCormick and Deering dealerships kept their original brands unique, with Mogul tractors sold at McCormick dealers, and Titan tractors at Deering dealerships, due to the still-present competitiveness of the former rivals.
1903
Hart-Parr built the earliest known internal-combustion engine agricultural tractor. This landmark artifact represents the first commercially successful farm tractor in the world, powered by an internal-combustion engine. It was invented and built by Hart-Parr in Charles City, Iowa, as their Model 3, following two prototype versions.
Major accomplishments included an oil-cooled engine, the valve in the head principle with overhead cam, the magneto-ignition system, the plow gear, the vaporizing carburetor with water injection, and forced-fed lubrication.
1904
Meinrad Rumely (Rumbly Oil Pull) died at his home in La Porte, Indiana in March at age 81.
Previous to his illness he devoted much of his time to the management of the large plant and every day found him at the Rumely Company carefully noting all that transpired and giving directions. No change or improvement was undertaken excepting under the direction of the president, whose heart was in the institution that he had watched grow as a father would a child, giving it every care and attention that would be to its up building and future good. At his death the Rumely Company had 300 employees. He was granted at least five U. S. patents related to agricultural equipment.
Hart-Parr improved their double carburetor that metered kerosene through one side and water through the other side. This was the first known use of water injection in an IC engine to control combustion knock.
J. I. Case Threshing Machine Company introduced the first all-steel thresher machine. Case sold their first gasoline tractor this year, and established a continuous presence in most of Europe when the company won the first place in a plowing contest held in the so-called "old continent". Case at this time developed a wide line of products: threshers, binders, graders, water tanks, plows, buggies, and even automobiles.
1905
The Eagle Manufacturing Company of Appleton, Wisconsin first entered the farm equipment market in 1905 with a 32 horsepower (24 kW) tractor. Eagle built tractors from 1905, but halted production during World War II, never to start its assembly lines again.
1906
The "International Harvester Company" has its tractor beginning. S.S. Morton organized the Morton Traction Company in 1903, and built 12 friction-drive traction engines. The Ohio Mfg. Company of Upper Sandusky, Ohio bought out Morton and took over production. "International Harvester Company" (IHC) bought several Morton traction engines from Ohio Mfg. Company for testing in 1905.
In 1906 "International Harvester Company" (IHC) contracted with the Ohio Mfg. Company to equip its Morton friction-drive traction engine chassis, with the 'Famous' stationary-type single-cylinder gasoline engines built in IHC's Milwaukee factory. The completed gasoline traction engines carried no brand name but were known by the company initials, IHC. 14 machines were built the first year with 10, 12, and 15-hp engines. IHC ended production of these models in 1909.
Holt Mfg. Company sells first steam powered tracked tractor.
1907
Hart-Parr determined to find a shorter name for their "Traction Engines" eventually hit on the word, "Tractor," meaning a machine for pulling or hauling. They coined the word and from that time on all manufacturers began using the term "Farm Tractors."
Holt makes 1st gas-powered tracked tractor. Holt was the first company to successfully manufacture a continuous track tractor.
Deere & Company president Charles Deere dies. His legacy was the transformation of the company founded by his father from a regional plow manufacturer into one of the country's major implement makers.
1908
James Oliver died at the age of 84 in South Bend, Indiana. His son, Joseph Doty Oliver (J.D.), replaced him as President of Oliver Chilled Plow Works and J.D.'s son, James II, became Director.
Hart-Parr trade contracts were entered into "Internationally," at a time when most of its competitors were just entering the U. S. Market.
Holt buys Daniel Best's Tractor Company.
Heider Manufacturing Company manufactures first tractor.
The "International Harvester Company" introduced in 1908 the 'IHC Type A' model and it was similar to the original Friction Drive models, using the same 'Famous' engines. However, the Type A used a single-speed gear-drive forward instead of friction drive. It retained the friction reverse.
Beginning in 1909 some Type A 12-HP models were built with 2 forward speeds. In 1909 IHC purchased the factory of the Ohio Mfg. Company and used it for continued production of the Type A. Some Type A 15-HP tractors were built with 2-speed transmissions in 1910. Regular production ended in 1913 but a few Type A tractors were assembled as late as 1916.
1909
M. Rumely Company introduced its first Oil Pull tractor.
Cockshutt buys shares in Frost & Wood Company, gains exclusive selling rights to F & W implements west of Peterborough. Ontario.
Avery Company enters licensing arrangement to sell "Cockshutt-Avery Engine Gang Plows" in USA, Mexico and Cuba.
1910 ~ 1919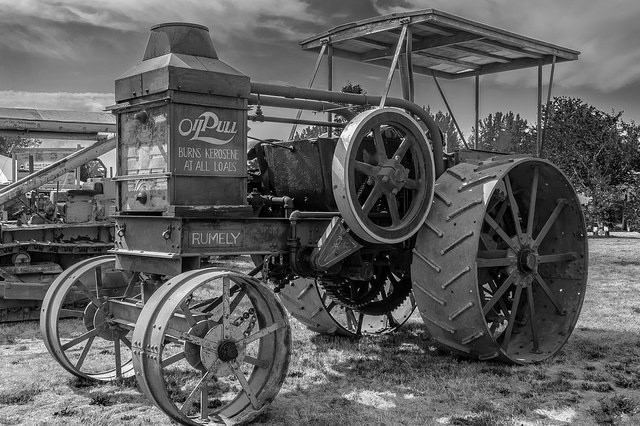 Rumely Oil Pull Traction Engine
1910
The J.I. Case Threshing Machine Company purchased the Pierce Racine Automobile Company in August of 1910. From that point on Case was not just a place to buy a tractor and farm equipment, it was also a place to buy a car.
From the start the "Case Automobile" was a high class car, and it is said, the best car one could buy for the price. Do to declining sales and stiff competetion from mass produced automobiles, the Case Company ceased production of automobiles in 1926/1927. In total approximately 24,000 units were produced. Today these cars are highly prized by collectors.
M. Rumely's most famous product, the kerosene-powered Rumely Oil Pull traction engine, was first developed in 1909 and began selling to the public by 1910.
Holt registers 'Caterpillar' trademark for continuous track tractor line.
Daniel Best Manufacturing Company was acquired by Holt Manufacturing Company in 1908. In 1910, C. L. Best left Holt Manufacturing Company and formed his own company, C. L. Best Gas Traction Company.
Massey Harris purchases Johnston Harvester Company, of Batavia, New York, enters U.S. market.
Hart-Parr developes early types of small tractors in 1910.The Hart-Parr 15-30 and 20-40 models were Charles Hart's first attempt at designing a smaller tractor for Midwest farms. Although they weighed 15,700 pounds with a 2-cylinder vertical engine, they were 17 percent lighter than the 22-45 and 30-60.
The "Cockshutt Plow Company," up to this point in 1910, had been family-owned, but they no longer had enough capital to continue expanding. That's when Harry Cockshutt, the youngest of James' brothers, took over as President.
Harry reorganizes Cockshutt Plow Company Ltd. as a public company. Then he puts new financing in place, which enabled the company to purchase the Adams Wagon Company, Brantford Carriage Company and a one third interest in the Frost & Wood Co.
Suddenly Cockshutt Plow became a full-line company with many more products, and a stronger dealer organization. Through World War I, exports improved and the company built on the earlier strength it had in England, Scotland, Australia, and South Africa.
1911
John Deere in 1911 produced its 'First Tractor', the gasoline fueled "Dain All-Wheel Drive." Deere purchased the Dain Manufacturing Company of Ottumwa, Iowa. The next year, Deere decided to design its own tractor, and Dain founder Joseph Dain Sr., was directed to design that tractor. After several prototypes, the design was finalized in 1917, and 100 production units were ordered.
By 1919 when that production run was complete, Deere had purchased the Waterloo Boy Company. Although the Dain AWD was ahead of its time, with features such as a shift-on-the-fly transmission, Deere halted production in late 1919, partly because the cost of the Dain tractor was double that of the Waterloo Boy, and partly because of the death of Dain Sr.
The Heider Manufacturing Company was the brainchild of Henry J. Heider and his elder brother John from Troy Grove Illinois. Henry Heider proved to be an able manufacturer and inventor, with his first patent already at the age of 21 for a four-horse evener (the first of over 20) and a successful repair business.
Heider Manufacturing built a line of tractors in Carroll, Iowa using their friction-drive system which was a mechanical continuously variable transmission. Heider first began production in 1911 and, by 1912, their tractors were being sold through the Rock Island Plow Company. Rock Island bought out Heider in 1914, although tractors carried the Heider - Rock Island name for several more years.
J. I. Case produces its first gasoline tractor.
Minneapolis Threshing Machine Company develops its line of gas tractors.
M. Rumbly acquires Garr-Scott & Company, Richmond, Indiana, which produced threshing machines and steam traction engines.
The "International Harvester Company" (IHC) in 1911, produced a range of large gasoline-powered farm tractors under the Mogul and Titan brands. Sold by McCormick dealers, the Type C Mogul was little more than a stationary engine on a tractor chassis, fitted with friction drive (one speed forward, one reverse). Between 1911 and 1914, 862 Moguls were built. These tractors had varied success, but the trend going into the mid-1910s was "small" and "cheap".
1912
Hart-Parr brought out the world's largest tractor 100 horsepower, the model 60-100. This was a 4-cylinder model, but it never went into production. It is believed there were only one or two built.
Emerson-Brantingham Company purchases Gas Traction Company.
Minnesota Steel & Machinery contracts to build Case 30/60 tractors for Case Threshing Machine Company.
Deere & Company president William Butterworth (Charles Deere son-in-law), who had replaced Charles Deere after his death in 1907, began the company's expansion into the tractor business.
Wallis Tractor Co. was organized and founded, operating from a factory in Cleveland, Ohio until one could be built in Racine, Wisconsin. Wallis tractors are an outgrowth of J.I. Case Plow Works, Racine, Wisconsin, after J. I. Case's son-in-law, Henry M. Wallis Sr., took over presidency of J.I. Case Plow Works in 1891.
1913
The "International Harvester Company" (IHC) in 1913, incorporated and changed its name to The "International Harvester Corporation" (IHC).
William Deering died on December 9th, at his home in Coconut Grove, Florida at age 87. He was the founder of the Deering Harvester Company which eventually merged into the International Harvester Company.
1914
Allis-Chalmers Manufacturing Company entered into the farm equipment business and introduced its first tractor, the Allis-Chalmers 10-18. As the result of a series of mergers and divestments over the years, the remnants of Allis Chalmers are part of AGCO Corp. today.
Hart-Parr standardized tractor production on four wheel construction.
Rock Island Plow Company begins selling Heider Model B tractors.
Minnesota Steel & Machinery develops its line of Twin City tractors.
1915
M. Rumbly Company went through bankruptcy and the Company was reorganized as the Advance-Rumely Company. Advance-Rumely Company was formed from Gaar-Scott & Company, Advance Thresher Company, and Northwest Thresher Company.
In 1913, the "Moline Plow Company" was also looking to get into the 'Tractor Business', and tested a design that had been built for them by IHC. This machine proved unsatisfactory, so in November of 1915, Moline Plow Co. bought the rights to "Universal Tractor Company" of Columbus's motor cultivator for $150,000. Moline had previously been providing a plow built specifically for the Universal Tractor since it was introduced in 1914, making this a tractor the Moline Plow Co was familiar with.
The initial 2 cylinder "Universal Tractor" model was quickly replaced by a larger model built solely by Moline, along with special implements for use with the tractor, such as a two-row cultivator, two-bottom plow, disc-harrows, grain drills, a corn planter and a 10-foot grain binder.
The "International Harvester Corporation" (IHC) in 1915, produced their first important tractors, the Models 10-20 and 15-30. These tractors, which were smaller than their predecessors, were primarily used as traction engines to pull plows and for belt work on threshing machines. The 10-20 and 15-30 both had separate, but similar, Mogul and Titan versions.
1916
Ford Tractor Company was incorporated by W. Baer Ewing and Paul W. Ford. This company has nothing to do with Henry Ford. Prior to founding the company, Ewing worked in the insurance business. The choice of name has been assessed as deceptive because Ewing named the company after one Paul Ford, a local hardware clerk Ewing had hired, allegedly to leverage the Ford name to take advantage of customer confusion with Henry Ford. The company was dissolved in 1917.
Rock Island Plow buys Heider Tractor Company.
Rollin and Clarence White turned their design prowess toward development of a motor plow and "Cleveland Motor Plow Company" is formed and developed a crawler tractor. The White's had originally started the White Sewing Machine Company in Cleveland in 1866.
1917
Henry Ford incorporates "Henry Ford & Son Tractor Company," and begins manufacture of Fordson tractors.
Hart-Parr developed modem Hart-Parr "30" tractors.
Cleveland Motor Plow Company changes name to Cleveland Tractor Company.
1918
Hart-Parr perfected principle of outside counterweights on tractor engines.
Hart-Parr brought out first kerosene fuelizer.
Deere & Company in March 1918, decided to continue its foray into the tractor business by purchasing the Waterloo Gasoline Engine Company which manufactured the popular "Waterloo Boy" tractor (the Froelich tractor) at its facilities in Waterloo, Iowa. Deere & Company continued to sell tractors under the Waterloo Boy name until 1923.
1919
J. I. Case Threshing Machine Company buys Grand Detour Plow, an early John Deere competitor.
Wallis Tractor Company merged into Case Plow Works.
J. I. Case Threshing Machine Company during World War I saw further expansion in Europe. Greater food production was needed and Case motorized machinery filled this need. At war's end in 1918, other competitive tractor and implement producers grew with a variety of mergers and buyouts and created a tough market. Case kept ahead of the competition by introducing the "Motorized Power Take Off" (PTO) in 1919.
1920 ~ 1929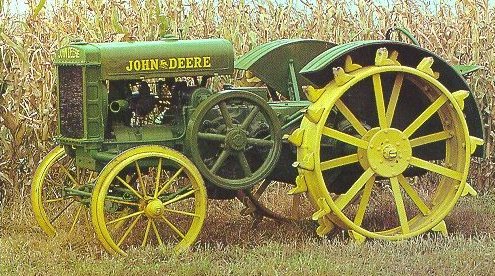 1923 J.D. 'D' Johnny Popper
1920
Hart-Parr Alemite system of force-fed lubrication adapted to tractors.
University of Nebraska begins "Tractor Testing" with the John Deere Waterloo Boy Model N.
Benjamin L. Holt (Catterpiller company) died in Stockton, California in December at the age of 71.
1921
Era of 'Price Wars,' especially between Ford and IH. Tractor prices slashed dramatically.
McCormick-Deering 15/30 Gear Drive tractor replaces Titan tractor.
1922
International Harvester Corporation buys Parlin & Orendorf Plow Company, throws in free plow with every new tractor to bolster 'Price War' sales.
1923
Deere & Company production of Model D 'Johnny Popper' begins.
Deere & Company management decided to build a "Model D" prototype in 1923, designed by Muir L. Frey (father of Ford Mustang designer Donald N. Frey). The Deere Model D was produced from March 1, 1923 to July 3, 1953, the longest production span of all the two-cylinder John Deere tractors. Over 160,000 were made.
The first Model D rode on steel wheels with a 6.5 in x 7 in, two-cylinder hand-cranked engine rated 15-27 hp (11-20 kW). It was not, however, the first tractor to bear the Deere name - as a number of Deere experimental tractors, and the John Deere Dain "All Wheel Drive" tractor (of which approximately 100 were produced during 1918 - 1919) had all carried the Deere name before the D.
Moline Plow Company discontinues Moline Universal Tractor, a casualty of tractor 'Price Wars' of the 1920's.
Daniel Best (Best Tractor Company) died in August in Oakland, California at age 85.
1924
Advance-Rumely buys Aultman & Taylor Machinery Company, who were noted for there steam engines, threshing machines and other agricultural machinery.
The "International Harvester Corporation" (IHC) in 1924, introduced the 'Farmall' tractor, a smaller general-purpose tractor, to fend off competition from the Ford Motor Company's Fordson tractors. The Farmall was a leader in the emerging row-crop tractor category. Following the introduction of the Farmall, IHC introduced several similar-looking "F Series" models that offered improvements over the original design. The original model became known as the "Regular."
1925
Deere & Company by 1925, realized the standard "Model D" did not meet customers' needs for industrial applications. Steel wheels were not suitable for hard surfaces, and the gearing was too slow for safe road speeds. Solid rubber tires were added, and engineers fitted a 28-tooth sprocket to the final drive, giving a road speed of 4 mph.
The company replaced the 465 cu in (7.62 l) two-cylinder engine with a 501 cu in (8.21 l). In 1926, Deere advertised the model as the "John Deere Industrial Tractor" with rear wheels and fronts with solid tires. This became known as the "DI". Options also included wheel weights.
Hart-Parr set world's non-stop drawbar record.
The C. L. Best Tractor Company and the Holt Manufacturing Company, who also manufactured tractors and had trademarked the Caterpillar brand, merged to form the "Caterpillar Tractor Company." Clarence Leo Best ("Leo"), became the chairman of the board of this new company, a position he held until 1951, overseeing its growth into the largest manufacturer of heavy machinery and farm equipment worldwide.
1926
The "Oliver Chilled Plow Tractor" ... Around this time, the Oliver Chilled Plow Works lost a lucrative contract with Henry Ford's Fordson tractor, which Oliver was supplying many parts for, because Henry built a Fordson plant in Ireland and began moving everything over there.
The Plow Works needed to make up the revenue loss from Ford so it started to experiment with the creation of a tractor of their own. The tractor they produced was called the "Oliver Chilled Plow Tractor." There were only about 20 manufactured and distributed throughout the U.S., where it was well received. Only one is known to exit today. The Oliver Chilled Plow Tractor had its demise in 1929 with the company's merger into the Oliver Farm Equipment Company.
1927
The Future Farmers of America (FFA) was created by 33 students from 18 states who gathered in Kansas City, Missouri. The roots of FFA originate from a time when boys were losing interest and leaving the farm. Forming an organization that offered farm boys "a greater opportunity for self-expression and for the development of leadership." In this way they will develop confidence in their own ability and pride in the fact that they are farm boys.
By April 1927, there were 1,251,186 "Radios on Farms" in the United States, an increase of 128 per cent over the number on farms in July, 1925.
1928
Advance-Rumely in 1928 purchased the Toro Motor Co. of Minneapolis, and sold their little Toro tractor as the Rumely "Do-All" - the tractor was available as a standard four-wheeled machine or as a convertible motor cultivator. In 1931, Rumely followed other manufacturers in introducting a smaller conventional tractor, the Rumely 6A, with an in-line six-cylinder engine, front-mounted radiator and bonnet.
The Advance-Rumely 6a tractor was the company's final attempt to get in on the new gas tractor market. The tractor came too late for the market and was the last model this famous company ran off its lines. The Advance-Rumely Company was purchased by Allis-Chalmers in 1931, who changed the tractor color to orange and continued to sell the Rumely 6A for a few more years.
Deere & Company on June 20, 1928, the Model designation was changed from "C" to "GP" to avoid confusion with the "D" when dealers were phoning in orders to the factory. "GP" stands for "General Purpose". This new Model GP had the same horsepower, engine displacement, weight and three-speed transmission as the model C. The GP's first serial number was 200211 . In 1930, the GP was updated with a 25-horsepower, 339 cubic-inch engine.
The John Deere "Model GP" was built in five distinct versions through the course of its production:
The standard-front GP, or John Deere Standard, built from March 1928 to February 1935.
The John Deere two-wheel tricycle-front GP, or GP-tricycle, of which twenty-three units were built between August 1928 and April 1929.
The John Deere GP wide-tread, or GPWT, built from November 1929 to November 1933.
The John Deere GP wide-tread Series P, a GPWT with narrowed rear tread width designed to suit potato rows, built between January and August 1930.
The John Deere General Purpose orchard tractor, or "GPO", from April 1931 to April 1935. This tractor had specialized shielding for groves and orchards and around low-hanging branches. Some GPOs were fitted with crawler undercarriages from the Lindeman Brothers in Yakima, Washington. These are commonly known as "GPO Lindemans".
Allis-Chalmers acquired the Monarch Tractor Company of Springfield, Illinois, thus adding a line of crawler tractors.
Henry Ford's innovative Fordson tractor had become obsolete in the American market. But the Ford Motor company recognized a continuing need for a small, affordable tractor in the British Isles and consolidated Fordson production at its Cork, Ireland plant. The Fordson tractor was assembled here until 1932, when production moved to England.
Case purchases Emerson-Brantingham Company, drops E-B tractor lines.
Rock Island Plow Company renames Heider tractor line to Rock Island.
Massey-Harris buys J. I. Case Plow Works, including the Wallis Tractor line.
J. I. Case Threshing Machine Company becomes the "J. I. Case Company." Case ceased building its legendary steam engines the year before. Case steam engines, of which over 30,000 were produced, were painted in black with green machinery, while the gas tractors were painted grey.
Cockshutt makes deal with Allis Chalmers to sell A-C and United tractors in western Canada.
1929
The "Oliver Farm Equipment Company" is formed from the Hart-Parr Company, Oliver Chilled Plow Company, Nichols & Shepard Company and the American Seeding Company.
The Deere & Company introduced in 1929 their first J.D. unstyled two-wheel tricycle-front GP Rowcrop tractor compete with the Farmall. It was a modified GP tractor with adjustable rear axle track (distance between wheels on the same axle) and a narrow front end. This tractor would would be the forerunner of the J.D. Models A & B they would produce later in the 30's.
The Deere & Company very nearly went "Bankrupt during the Great Depression." Only a large order of tractors for the Soviet Union kept the J.D. company going.
Allis-Chalmers changes tractor colors from Green to Persian Orange paint.
Massey-Harris sells name rights to the J. I. Case Company.
Minneapolis-Moline Power Implement Company is formed in Hopkins, Minnesota was the product of a merger between three companies: Minneapolis Steel & Machinery (Twin City tractors), Minneapolis Threshing Machine, and Moline Plow.
1930 ~ 1939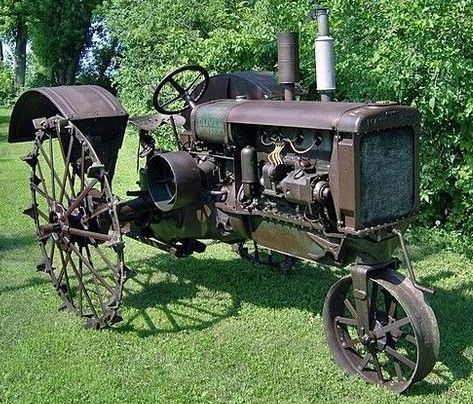 Oliver Hart-Parr 18-27 Row Crop
1930
Under the new "Oliver Farm Equipment Company" name, Oliver Hart-Parr introduces the first (18-27) Row Crop tractor, a general-purpose tractor, which went into production in February. This was the "First Row Crop Tractor" ever built. Also, Hart-Parr in 1901, was credited for being the first company to successfully mass produce a gasoline traction engine and in 1907 Hart-Parr, is credited with introducing the word "Tractor" into the English language.
Minneapolis-Moline sells both Twin City & Minneapolis-Moline brand names.
Cockshutt begins selling tractors from the Oliver Farm Equipment Company under the name "Cockshutt Hart-Parr" in the U.S.
The Oliver Farm Equipment Company in 1930, purchased the McKenzie Manufacturing Company of La Crosse, Wisconsin.The McKenzie Manufacturing Company was a leading maker of potato planting and potato harvesting equipment. Acquisition of the McKenzie Company broadened the line of farm equipment offered by Oliver to include potato diggers which were then sold under the "Oliver" name. However, following the 1930 merger, production of the "Oliver" potato diggers moved out of La Crosse, Wisconsin to Chicago, Illinois.
1931
Allis-Chalmers Company acquires the Advance-Rumely Thresher Company business.
Cockshutt invents Tiller Combine, which minimizes tillage by planting and plowing in one pass.
1932
The "International Harvester Corporation" (IHC) in 1932, produced their first diesel engine, in the McCormick-Deering TD-40 crawler. This engine started on gasoline, then switched over to diesel fuel.
Diesel engines of this era were difficult to start in cold weather, and using gasoline allowed the engine to start easily and thoroughly warm up before making the switch to diesel in all weather conditions. In 1935, this diesel engine was put in the International Harvester WD-40, becoming the "first diesel tractor on wheels" in North America. The world's first diesel tractor was the German Benz-Sendling BS 6, introduced in 1922.
Allis-Chalmers shows Model U equipped with rubber pneumatic tires developed with Harvey Firestone. Allis-Chalmers' Model U was not a particularly advanced tractor. Nor did the U make such a huge impact for Allis-Chalmers or on agriculture that it was considered great. Instead, it was a component of the U - "the pneumatic tires" - that helped the tractor make history. It was the first tractor to have rubber tires as standard equipment.
1933
Henry Ford moves Fordson Tractor production from "Ireland to England."
John Deere's business is almost at a standstill. Sales plunge to $8.7 million. Though it is losing money, the company decides to carry debtor farmers as long as necessary, building and strengthening greater farmer loyalty for generations.
Cockshutt buys remaining shares of Frost & Wood Company, making it a wholly-owned subsidiary.
1934
The Deere & Company J.D. "Model A" came off the assembly line in April 1934. The tractor was 25 hp, was 309 CID and had a four-speed transmission. There were eight different Model A variations. Some of these were tricycle, hi-crop, orchard, single front tire and industrial models. The tricycle wheel design, patterned after that of the Farmall tractor, reduced steering effort and greatly increased maneuverability.
The Deere & Company J.D. "Model B" was introduced in June 1934. This tractor had a shorter frame than the Model A, but it was eventually lengthened so it could use some of the same equipment that the larger models A and G used. There were also eight different Model B tractor variations, the same as the larger Model A.
1935
Rock Island discontinues tractor production.
International Harvester Corporation" (IHC) in 1935, produced the IHC WD-40, and it was the "first diesel tractor on wheels" in North America. The world's first diesel tractor was the German Benz-Sendling BS 6, introduced in 1922.
The Oliver 70 tractor was introduced in 1935, and built in Charles City, Iowa until 1948 as a restyled version of the Oliver Hart-Parr 70. It featured a 33 hp, Waukesha-Oliver 6 cylinder engine weighing in at 4,400 lbs.
The Oliver Farm Equipment Company begins selling Cockshutt farm implements through its dealers.
1936
The "Soil Conservation and Domestic Allotment Act," was enacted in February, a United States federal law that allowed the government to pay farmers to reduce production so as to conserve soil and prevent erosion. The result, three years after the Act was adopted, soil erosion (soil being raised by winds) had dropped 21.7%.
1937
The Deere & Company introduced the much larger J.D. "Model G" in 1937. It was fitted with a 36-horsepower, 425-cubic-inch engine and a four-speed transmission. John Deere publicized the G as a three-plow tractor and it was built until 1941 when the GM (G, Modernized) replaced it.
John Deere gross sales reach $100 million.
The Oliver Farm Equipment Company drops the Hart-Parr name from all its tractors.
The Oliver 80 was introduced and built untill 1948 in Charles City, Iowa. It featured a 43 horsepower, Waukesha-Oliver 4 cylinder engine weighing in at 4,800 lbs. It was also sold as the Cockshutt 80 in Canada.
The Oliver 90 was introduced and built till 1953 in the Hart-Parr Works, Charles City, Iowa. It featured a 48 hp, Waukesha-Oliver 4 cylinder engine weighing in at 6,163 lbs.
The Oliver 99 was introduced and built untill 1953 in the Hart-Parr Works, Charles City, Iowa. It featured a 69 hp, Waukesha-Oliver 4 cylinder engine. The Oliver 99 has its roots in the Oliver Hart-Parr 28-44. It was Oliver's largest tractor at the time, weighing in at 7,073 lbs.
Case buys Rock Island Plow Company.
Minneapolis-Moline adopts Prairie Gold color.
Charles W. Hart (Hart-Parr tractors) died from a heart attack in Missoula, Montana at age 64.
1938
Minneapolis-Moline in 1938, pioneered the concept of the closed-cab farm tractor by developing the UDLX Comfortractor (also known as the Model U Deluxe). The UDLX was equipped with automotive features such as an electric starter and a dashboard with a speedometer, plus several firsts in a tractor, including a heater, a cigarette lighter, windshield wipers, and a radio.
William J. Chalmers died in December at age 86 at his home on Geneva Lake, Collie Point, Illinois. Bill Chalmers was the retired chairman of the Allis-Chalmers Company.
1939
The "International Harvester Corporation" (IHC) in 1939, industrial designer Raymond Loewy was hired to design a new line of tractors. The sleek look, combined with other new features, created what is known as the Farmall 'letter series' (A, B, BN, C, H, and M) and the McCormick-Deering "standard series" (W-4, W-6, and W-9).
Ford introduces Model 9N, first tractor with Ferguson hydraulically-operated 3-point hitch system.
Industrial designer Raymond Loewy restyles new streamlined IH Farmall tractor line.
Cockshutt shifts to "Wartime Production". During the war years, between 1939 through 1945, Cockshutt's Brantford, Ontario, factory, operating as Cockshutt Aircraft Division, manufactured undercarriages for several types of bombers. Still during the war years Cockshutt was able to design its own tractor. This tractor was the Cockshutt Model 30 tractor. However, because the raw materials needed for industrial production were restricted only for use in the war effort, production of the Model 30, 30 horsepower 2-3 plow tractor, had to be postponed until the end of the war.
1940 ~ 1949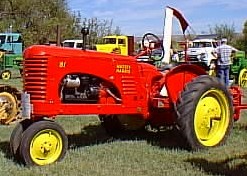 Massey Harris 81 Tractor
1940
Massey Harris 81 tractor sees wartime service towing airplanes for Royal Canadian Air Force.
The Deere & Company in late 1940 re-introduced the J.D. Models A and B with new styling, both tractors were given six-speed transmissions. The A was 29 hp out of a 321 CID engine while the smaller B was both 18 and 23 hp reflecting the earlier and later updates between 1938 and 46.
The Deere & Company in August 1940, J.D. introduced the new "Model LA" which was followed by the "Model LI." The LA had a 77 CID engine with 14 belt horsepower.
1941
World War II puts most tractor production on the back burner.
Minneapolis-Moline introduces first LPG-powered tractors.
Cockshutt develops technology for processing flax fibers needed for linen aircraft fabric components.
The "International Harvester Corporation" (IHC) in 1941, introduced the Model MD, the 'First Rowcrop Diesel-Powered' tractor. It was over a decade later, IHC's largest competitor, John Deere, produced a diesel option on their rowcrop tractors.
Charles H. Parr (Hart-Parr tractors), died June 10, in Los Angeles, California at age 73.
The Deere & Company in 1941, restyled the J.D. "Model G" tractor , but it did not start to roll off the assembly line until early 1942. Like the smaller A/B tractors the Model G also had the 6-speed transmission, but also featured electric lights and electric start.
1942
J. I. Case Threshing Machine Company evolved as World War II arrived, becoming involved in the manufacturing of shells for the United States and allied forces military, as well as airplane parts for the B-26s, bombs, and doors for the Sherman Tank. Three new plants were opened across the United States during that year, and, in 1942, the company produced its first self-propelled combine - a Model 123 SP harvester. That same year, Case released the company's first cotton picker, which is currently preserved by the Smithsonian society.
The International Harvester Corporation Farmall Model H. tractor saw World War II service. The war claimed all industrial copper and rubber so the tractors quickly returned to steel wheels and crank starting. The Model H tractor production remained high during the war years. IHC produced 34,987 in 1942, 21,375 in 1943, and 37,265 in 1944.
1943
During the early 1940's, the American farmer couldn't get a new tractor for love or money - but the Army could, and did. J.I. Case Company was among several manufacturers that built tractors for wartime use, converting its popular Model SC into the Case SI Airborne tractor.
The Case SI was a leaner version of the popular Case SC designed to fit into WACO gliders and were used to maintain and repair aircraft runways and perform other construction jobs in battle zones.
The "International Harvester Corporation" (IHC) in 1943 manufactured light, medium, and heavy vehicles for military use. Examples include a Metro van sold to the Czechoslovakian Army, M5 Tractors and 2.5-ton M-5H-6 trucks for the US Navy and Marines, and around 3,500 2.5 ton M-5-6-318 cargo trucks provided mostly to Soviet Union and China.
The Oliver Farm Equipment Company in 1943, purchased the Ann Arbor Agricultural Machine Company of Ann Arbor, Michigan. Founded in 1885, the Ann Arbor Agricultural Machine Company became the leading manufacturer of "hay presses" or stationary balers.
1944
The Oliver Farm Equipment Company changes its name to become the "Oliver Corporation."
The Oliver Corporation acquires the "Cleveland Tractor Company" which was formed in 1917. Oliver continued production of the existing Cletrac HG model until 1951. The agricultural Cletrac HG gradually evolved into the more industrial Oliver OC-3 which was produced from 1951 through 1957.
1945
During World War II, the U.S. military used lots of diesel engines. Most pre-war diesel manufacturers saw their entire production output dedicated to military use. They were used in trucks, tanks, ships and submarines. There were so many diesels that the Army had to train a host of mechanics to service them. After the war, some of those engines found their way onto farms as irrigation power units and generators. Others showed up in tractors and many of the G.I. diesel mechanics became mechanics in their hometowns. The diesel industry took off.
Also during World War II (1939-45) the American farming community gained more from the wartime economy than any other segment of the U.S. population. The more acreage a farmer owned and cultivated, the more he profited. Prior to World War II American agriculture had suffered through twenty years of depressed farm prices.
Although World War II ultimately raised the income and social status of America's farmers, the early 1940's were still difficult. During that period about five million small farmers who were barely making a living left their farms and sought work in the newly expanding war industries.
Cockshutt in 1945, signed marketing agreements with United States Organizations. The first was signed with the National Farm Machinery Co-Operative in the Midwestern United States. Under the terms of this agreement the Model 30 tractors sold in the United States would be sold under the "Co-op" name. The tractors would be painted entirely "pumpkin orange" with black lettering and would be re-designates as the Co-op Model E-3 tractor.
The National Farm Machinery Co-Operative would wholesale the Model E-3 tractors to various local farmer-owned co-operatives. These local former-owned Co-Operatives, spread over 10 states in the Midwestern part of the U.S., would then retail the Model E-3 tractors to the consuming farming public.
The Canadian Co-Operative Implements Limited also marketed the Co-op E3, E4 and E5 tractors in Canada.
1946
Cockshutt introduces its first "Built in Canada" line of farm tractors, the Model 30, first tractor to feature a 'Live' PTO.
The Oliver Corporation introduces live PTO, an industry first developed by Cockshutt.
1947
The "International Harvester Corporation" (IHC) in 1947, the smallest tractor in the Farmall line was introduced, the "Cub." With a 60 cu. in. four-cylinder engine and a 69-inch wheelbase, the Cub was aimed at small farms that had previously continued to rely on horse-drawn equipment.
Production of the "Farmall Cub" commenced at the newly acquired Farmall Works, Louisville, Kentucky plant (formerly the wartime Curtiss-Wright Aircraft factory in Louisville) which was expanded, remodeled, and re-equipped. Selling for $545.00 in 1947, the Cub proved extremely popular, and the original design continued in production without significant alteration until 1979.
Cockshutt in 1947, production of the Model 30 hit its full stride when 6,263 were built. Thus the Model 30, 30 horsepower 2-3 plow, was the first modern production tractor built in Canada.
The Deere & Company in 1947, opened a new tractor factory in Dubuque, Iowa, built to produce the J.D. "Model M." The M was created to address the increasing demand for small tractors and compete with the increasingly popular Ford and the smaller Farmall tractor models. The M was the first Deere tractor to use a vertical two-cylinder engine, with a square bore and stroke of 4.0 x 4.0 inches (100.5cuin) with a high row crop.
Ferguson sues Ford for patent infringement and royalties because no payments were made. Ferguson sued Ford for $251 million, claiming infringement and damages that impacted there business.
Henry Ford died of a cerebral hemorrhage on April 7, at the age of 83, near his Dearborn estate, Fair Lane. Its been said that in todays dollars, Henry Ford's net worth would be equal to around $199 Billion.
Caterpillar moves from farm to construction equipment.
1948
The "Oliver Corporation" was ready with an entirely new line of tractors. These were built over the successes of the past, including the Oliver 60, 70, and 80 tractors. The Oliver 66, 77 and 88 tractors of the 1948 to 1954 period, marked an entirely new series of Fleetline models. The 77 and 88 could be bought with either gasoline or diesel engines. During 1954, the company upgraded these tractors with the new "Super" series models, and added the Oliver Super 55. It was the company's first compact utility tractor.
The new Oliver 77 Fleetline was introduced in 1948 and built until 1954 in Charles City, Iowa. It features a 37 hp, Waukesha-Oliver 6 cylinder engine weighing in at 4,207 lbs.
1949
The Deere & Company in 1949, after years of testing, released its first proper diesel tractor, the J.D. "Model R." The R was also the first Deere tractor with a 'live' independent PTO equipped with its own clutch. The R also incorporated live hydraulics. PowrTrol, as it was known, provided the operator the ability to lift equipment by the pull of a lever. Available as a standard tractor only, it did not have an adjustable front axle, nor did it have a three-point hitch. The tractor was fully serviceable at pulling larger equipment efficiently on large acre wheatland farms. The Model R had a shipping weight of 7,670 lbs.
Cockshutt in 1949, introduces the Model 40, a larger 45 horsepower, 3-4 plow tractor.
The Oliver 66 was introduced in 1949 and built untill 1954 in Charles City, Iowa. It features a 27 hp, Waukesha-Oliver 4 cylinder engine weighing in at 3,193 lbs.
1950 ~ 1959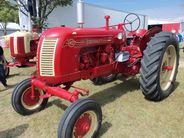 Cockshutt 40 Tractor
1950
The Deere & Company during the 1950's, the J.D. R saw a series of upgrades in the Models 80, 820 and 830. The 80 was produced for two years and 3,500 were produced. It had new features, including power steering and dual hydraulics. It developed 68 hp and weighed 8,100 pounds. The 80 also corrected the other design flaws within the R such as using a water pump and pressure radiator cap and the addition of a center crankshaft main bearing.
The J.D. 820 and 830 were similar overall, but also differed in their sheet metal exteriors, fuel tank designs and color schemes. The 820, a larger version of the 720 and the 720, was basically the same as the 70, except for the model number and that the sides of the hood are painted J.D. yellow. The 720 was upgraded to the 730 for 1959.
The Deere & Company after making more than 1 1/4 million two-cylinder tractors, John Deere switched to four and six-cylinder engines. Announcement of the change came after seven years of development and forty million dollars in retooling.
1951
The Economic History Association reports that the "Peak year of Tractor Production" in the U.S. was 1951, during which 564,000 units were made. From that time, the approaching saturation of the market produced a steady fall in production and sales.Manufacturers responded by developing ever-larger tractors to supply farms that were growing in size. This pursuit of size left the small end of the market open to foreign competition, and, as in the case of the U.S. automobile industry, imports grew to dominate the small-tractor market.
1952
Minneapolis-Moline in the early 1950's introduced the Uni-Tractor which was a three-wheeled powered unit used to drive other units. The concept was instead of having different tractors and harvesters, one power unit mated to the correct unit could do all the jobs a farmer needed, as M-M sales stated a "All-in-One." While it was sold in small numbers the concept never was popular with most farmers. Many farmers referred to the Uni-Tractor as the Minneapolis-Moline Motorcycle.
Cockshutt buys manufacturing facilities of National Farm Machinery Company in Ohio. Opens sales branches in US Midwest. Cockshutt also in 1952, introduces the Model 20, a smaller 25 horsepower, 2-plow tractor.
The A.B. Farquhar Company in 1952, was sold to the Oliver Corporation. A.B. Farquhar was founded in York, Pennsylvania, in the 1850's as the W.W. Dingee & Company. In 1861 young businessman Arthur Briggs Farquhar bought the business and enlarged it during the Civil War as the Pennsylvania Agricultural Works. In 1889, the A. B. Farquhar Company began building threshing machines and other farm machinery. Later, the company started the production of cultivators for farm use (especially potato harvesting equipment). Farquhar produced some steam engines early, then moved onto the production of traction engines.
1953
Massey Hassis merges with Harry Ferguson to become Massey-Harris-Ferguson.
Cockshutt in 1953, introduces the Model 50, a larger 60 horsepower, 4-5 plow tractor to the emerging line of Cockshutt farm tractors.
1954
Last year of production of John Deere Model D 'Johnny Popper' tractor.
The Oliver Corporation in 1954, upgraded there tractors with the new "Super" series models (77, 88 and 99) and added the Oliver Super 55 which was the Oliver Company's first compact utility tractor.
The new Oliver Super 55 Utility was introduced and built until 1958 in South Bend, Indiana. It features a 36 hp, Oliver 4 cylinder engine weighing in at 3,400 lbs. .
The new Oliver Super 77 was introduced and built until 1958 in South Bend, Indiana. It features a 48 hp, Oliver 6 cylinder engine weighing in at 5169 lbs. .
The new Oliver Super 88 was introduced and built until 1958 in Charles City, Iowa. It features a 62 hp, Oliver 6 cylinder engine weighing in at 5,169 lbs. .
The new Oliver Super 99 was introduced and built until 1958 in Charles City, Iowa. It features a 62 hp, Oliver 6 cylinder engine weighing in at 7600 lbs.
1955
The "International Harvester Corporation" (IHC) in 1955, the numbered "hundred-series tractors" was offered. Although given slightly different looks and few new features, they were still updates to the models introduced in 1939. The only new tractor in the 1955 lineup was the IHC 300 Utility.
According to the Economic History Association's 1955 estimate, the U.S. would have been almost ten percent poorer in the absence of the farm tractor. The tractor has had a markedly positive economic impact. Horses and mules, while providing farm power, ate up more than twenty percent of the food they helped farmers grow!
The millions of farm workers freed up by the new technology were able to contribute their labor elsewhere in the economy, creating large economic benefits. Along with the revolution in yields generated by the advances in biological and chemical research, the farm tractor has helped agriculture make a significant contribution to economic growth in the United States.
1956
John Deere purchased Lanz (Bulldog) tractors a German Company, and started using the name "John Deere-Lanz" for the Lanz product line. A few years after the Bulldog was discontinued and the Lanz name fell into disuse.
1957
John Deere expands into Mexico and Germany to become multinational.
The "International Harvester Corporation" (IHC) in 1957, the tractor lineup had another update by increasing power in some models, adding a new 230 Utility Model, adding new white paint to the grill and sides, and giving new number designations. This improved sales at the time, but IHC's inability to change and update was already showing.
1958
Cockshutt in 1958, introduced a complete "New Line of 500 Series Tractors" at the same time: the 540, 550, 560 and 570. The Model 540 was 30 horsepower, 2-3 plow; Model 550 was a 40 horsepower, 3-plow; Model 560 was a 50 horsepower, 4-plow, and the model 570 was a 65 horsepower, 5-plow design. Cockshutt shortly thereafter began experimenting with a Model 580 tractor.
The Big-Brother Model 580, a 100-horsepower experimental tractor was never mass-produced; the first three were hand assembled units and were on the shop floor in the plant when a shut down order suddenly came. A few years later in early 1962, the Cockshutt Company is taken over by 'Corporate Raiders' from New York, who bought up controlling interest and replaced the Board of Directors, ruining the Cockshutt Tractor as we knew it.
Only one Cockshutt Model 580 Super, 100-horsepower, experimental diesel tractor escaped demolition, and it exits today. I have read the current owners of the big Cockshutt 580 are a group of investors, Clayton Lenhart, Paul Summers Jr., McComas Albaugh, that keep the tractor in Union Bridge, Maryland. The 580 Super has been on display at various fairs through-out the years.
John Deere Credit Company established.
The Oliver Corporation in 1958, began marketing the new 660, 770, 880, 990, and other new models.
1959
The "International Harvester Corporation" (IHC) in 1959, one of the first events that eventually led to the downfall of the company presented itself.In June of that year, IHC recalled the 460, 560, and 660 tractors: final drive components had failed. IHC, which wanted to be the first big-power manufacturer, had failed to drastically update the final drives on the new six-cylinder tractors.
These final drives were essentially unchanged from 1939 and would fail rapidly under the stress of the more powerful 60-series engines. IH's competitors took advantage of the recall, and IH lost customers in the ensuing months, with many customers moving to John Deere's New Generation of Power tractors introduced in 1960.
Massey Ferguson buys diesel engine maker F. Perkins of Peterborough, Ontario.
Minneapolis-Moline ends the production of Minnie-Mo's U series tractor.
The Deere & Company in October 1959, J.D. showcased a new large 215 hp 4WD, called the "Model 8010," on the Robert Ottilie Seed Farm north of Marshalltown, Iowa. It was shown during the largest farming field days event held in Iowa up to that time. Only 100 J.D. Model 8010s were built, and 99 of those were rebuilt at the factory and re-released as Model 8020s in 1960.


Our Research Source
The American Society of Mechanical Engineers, Charles City, Iowa
The History Museum, Washington Street, South Bend, Indiana
Sunnybrook Farm Museum, Red Deer, Alberta, Canada
TTG The Tractor Guys, Research Division,
Western, Connecticut, USA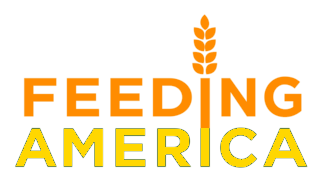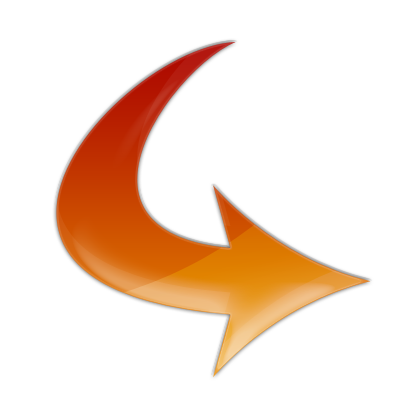 TTG Tractor Info Home Page Here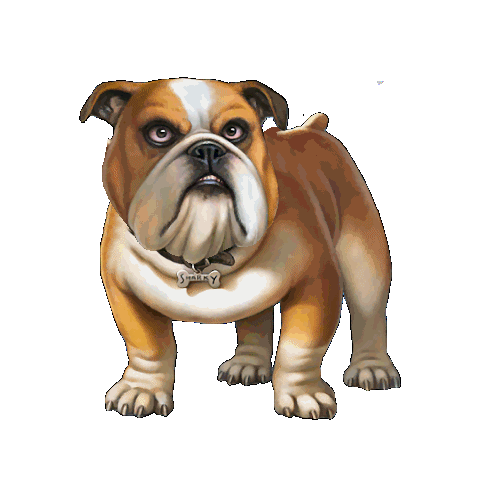 © 2011 ~ 2022 site was designed built and is maintained by
thetractorguysct.com all rights reserved