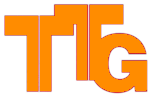 The Tractor Guys
Revive'n Old Iron
Cockshutt Tractor Series
Serial & Production Number Charts
1935 Thru 1962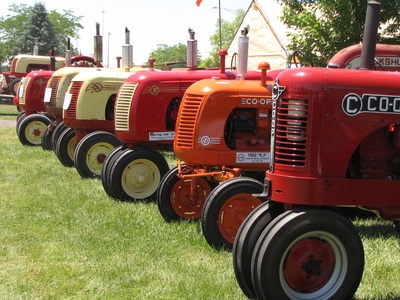 Brantford, Ontario, Canada
Charles City, Iowa

*Note: Cockshutt info is limited, if anyone has more
accurate info that can be added below, send me a
email at gtstoday@gmail.com Thanks, George

20 Row-Crop Series

| | | | |
| --- | --- | --- | --- |
| Model | Year | Serial # | Engine Make & Model Etc. |
| Cockshutt 20 Row-Crop 33 hp | 1952 | 101 | Continental 2.3L 4 Cylinder Gasoline |
| Cockshutt Co-Op E2 | 1953 | 1657 | Distillate: 1953 - 1958 |
| Plant: Brantford, Ontario, Canada | 1954 | 2568 | |
| | 1955 | 10001 | |
| Battery: 6 Volt | 1956 | 20001 | 1956 Black Hawk 20 Deluxe S/N: #21001 & Up |
| Weight: 2,820 lbs | 1957 | 30001 | Plows: 2 |
| Original Base Price: $1,656 (1955) | 1958 | 40001 | Drawbar: 25.47 hp - Belt: 28.94 hp |
| Total Built: 4,000 | Final | 40115 | P. Run: February 1952 - October 1958 |


30 Row-Crop Series

| | | | |
| --- | --- | --- | --- |
| Model | Year | Serial # | Engine Make & Model Etc. |
| Cockshutt 30 Row-Crop 31 hp | 1946 | 1 | Buda 2.5L 4 Cylinder |
| Cockshutt Co-Op E3 | 1947 | 442 | Gasoline Engine: #4B153 |
| Plant: Brantford, Ontario, Canada | 1948 | 6705 | Diesel Engine: 1949 - 1956 #48D153 |
| 1st Cockshutt Tractor Built In Canada | 1949 | 17370 | Gears: 4 Fwd and 1 Rev |
| Gamble's Farmcrest (Mid-West Stores) | 1950 | 26417 | High Altitude Head: Gas - 1952 - #4B153 |
| Serial #23506 Last 30 Tractor | 1951 | 28524 | Distillate: 1950 - 1956 - #4B153 Dis |
| Stamped On Tube Frame | 1952 | 32389 | LPG: 1953 - 1956 - #4B153 LPG |
| | 1953 | 35580 | |
| Battery: 6 Volt | 1954 | 35974 | Plows: 2 - 3 |
| Weight: 3,620 lbs | 1955 | 40001 | PTO: 28 hp - 1st Live System |
| Original Base Price: $2,022 (1955) | 1956 | 50001 | Drawbar: 21 hp (Claimed) - 27.25 hp (Tested) |
| Total Built: 37,328 | Final | 50259 | P. Run: October 1946 - March 1956 |


Golden Arrow Series

| | | | |
| --- | --- | --- | --- |
| Model | Year | Serial # | Engine Make & Model Etc. |
| Cockshutt Golden Arrow (No Model #) | 1952 | 16001 | Hercules 3.2L 4 Cylinder Gasoline |
| Plant: Brantford, Ontario, Canada | | | Gas Engine Only: #G0198 |
| (Promotional Tractor For US Farm Sales) | | | Gears: 6 Fwd and 2 Rev |
| Total Built: 135 (Est) | Final | | P. Run: Very Limited Number Produced |


35 Black Hawk Deluxe Series

| | | | |
| --- | --- | --- | --- |
| Model | Year | Serial # | Engine Make & Model Etc. |
| Black Hawk Cockshutt 35 Deluxe R.C. 47 hp | 1956 | 1001 | Hercules 3.2L 4 Cylinder Gasoline |
| Cockshutt 35 L (Low/Utility Model) | 1957 | 10001 | Gas Engine Only: #G0198 |
| Plant: Brantford, Ontario, Canada | 1958 | 20001 | Gears: 6 Fwd and 2 Rev |
| Could be Labeled Blackhawk/Deluxe | | | Plows: 3 |
| Original Base Price: $2,640 (1956) | | | PTO: 42.75 hp (Claimed) Live Optional |
| Total Built: 1,850 | Final | 20064 | P. Run: |


40 Black Hawk Golden Eagle Series

| | | | |
| --- | --- | --- | --- |
| Model | Year | Serial # | Engine Make & Model Etc. |
| Cockshutt 40 P.D. | 1954 | 27001 | L4 Perkins 4.4L 4 Cylinder Diesel |
| Cockshutt Golden Eagle 40D4 | 1955 | 30001 | |
| Plant: Brantford, Ontario, Canada | 1956 | 40001 | Black Hawk Golden Eagle - S/N #31001 & Up |
| Original Base Price: $3,677 (1956) | 1957 | 50001 | |
| Total Built: Inc. In 40 14,929 Below | Final | | P. Run: November 1954 - September 1957 |


40 Row-Crop Series

| | | | |
| --- | --- | --- | --- |
| Model | Year | Serial # | Engine Make & Model Etc. |
| Cockshutt 40 Row-Crop 47 hp | 1949 | 101 | Buda 6 Cylinder |
| Cockshutt Co-Op E4 | 1950 | 194 | Buda 3.8L 6 Cylinder Gasoline #6B230 |
| Plant: Brantford, Ontario, Canada | 1951 | 4101 | Buda 3.8L 6 Cylinder Diesel 1950-58 #6B230D |
| | 1952 | 6901 | Perkins 4.4L 4 Cylinder Diesel #40D4 (1955) |
| First 21 Tractors Hand Assembled | 1953 | 10501 | High Altitude Head: Gas - 1952 - #6B23 |
| | 1954 | 11401 | Distillate: 1953 - 1958 - #6B230 Dis |
| | 1955 | 20001 | LPG: 1953 - 1956 - #6B230 LPG |
| Battery: 6 Volt | 1956 | 30001 | |
| Weight: 5,305 lbs | 1957 | 40001 | Gears: 6 Fwd and 2 Rev |
| Original Base Price: $2,626 (1955) | 1958 | 50001 | Drawbar: 37.85 (Tested) - PTO: 43 hp |
| Total Built: 14,929 | Final | 50372 | P. Run: December 1949 - November 1958 |


50 Row-Crop Series

| | | | |
| --- | --- | --- | --- |
| Model | Year | Serial # | Engine Make & Model Etc. |
| Cockshutt 50 Standard 54 hp | 1953 | 101 | Buda 4.5L 6 Cylinder Gasoline #6B273 |
| Cockshutt Co-Op E5 | 1954 | 1750 | Buda 4.5L 6 Cylinder Diesel #6DA273 |
| Plant: Brantford, Ontario, Canada | 1955 | 10001 | Gears: 6 Fwd and 2 Rev |
| Battery's: Gas - 1 - Diesel 2 - 6 Volt | 1956 | 20001 | 1st Cockshutt With Power Steering, Disc Brakes |
| Weight: 6,041 lbs | 1957 | 30001 | Deluxe & Black Hawk S/N #21105 & Up |
| Original Base Price: $2,872 (1955) | 1958 | 40001 | Drawbar: 51.59 hp (Tested) - Plows: 4 - 5 |
| Total Built: 3,974 | Final | 40257 | P. Run: December 1952 - November 1958 |


60 Row-Crop Series

| | | | |
| --- | --- | --- | --- |
| Model | Year | Serial # | Engine Make & Model Etc. |
| Cockshutt 60 Row-Crop 20 hp | 1940 | 600001 | Waukesha-Oliver 2.0L 4 Cylinder Gasoline |
| Manufacturer: Oliver (Sold In Canada) | 1941 | 600071 | |
| Plant: Charles City, Iowa | 1942 | 606304 | |
| | 1943 | 607395 | |
| (All Specs Same As The Oliver 60 R.C.) | 1944 | 608526 | |
| | 1945 | 612047 | |
| | 1946 | 615628 | |
| Weight: 2,500 lbs | 1947 | 616707 | Gears: 4 Fwd and 1 Rev |
| Original Price: $1,700 USD (1948) | 1948 | 620257 | Drawbar: 16.92 hp - PTO: 18 hp - Plows: 1 - 2 |
| Total Built: 20,256 (Est) | Final | | P. Run: |


60 Standard Series

| | | | |
| --- | --- | --- | --- |
| Model | Year | Serial # | Engine Make & Model Etc. |
| Cockshutt 60 Standard 20 hp | 1942 | 410001 | Waukesha-Oliver 2.0L 4 Cylinder Gasoline |
| Manufacturer: Oliver (Sold In Canada) | 1943 | 410501 | |
| Plant: Charles City, Iowa | 1944 | 410511 | |
| | 1945 | 410617 | |
| (All Specs Same As The Oliver 60 STD) | 1946 | 410911 | |
| Weight: 2,500 lbs | 1947 | 411311 | Gears: 4 Fwd and 1 Rev |
| Original Price: $1,700 USD (1948) | 1948 | 411961 | Drawbar: 16.92 hp - PTO: 18 hp - Plows: 1 - 2 |
| Total Built: 1,960 (Est) | Final | | P. Run: |


70 Row-Crop Series

| | | | |
| --- | --- | --- | --- |
| Model | Year | Serial # | Engine Make & Model Etc. |
| Cockshutt 70 Row-Crop 33 hp | 1935 | 200001 | Continental 3.3L 6 Cylinder Gasoline |
| Manufacturer: Oliver (Sold In Canada) | 1936 | 200686 | Continental 3.3L 6 Cylinder Kerosene |
| Plant: Charles City, Iowa | 1937 | 208729 | Continental 3.3L 6 Cylinder Distillate |
| | 1938 | 219645 | |
| | 1939 | 223255 | |
| (Also Made A Orchard Model) | 1940 | 231116 | |
| | 1941 | 236356 | |
| (All Specs Same As The Oliver 70 R.C.) | 1942 | 241391 | |
| | 1943 | 243640 | |
| | 1944 | 244711 | |
| | 1945 | 250180 | |
| | 1946 | 252780 | |
| Weight: 4,400 lbs | 1947 | 258140 | Gears: 4 Fwd and 1 Rev |
| Original Base Price: $1,123.30 (1945) | 1948 | 262840 | Drawbar: 22.7 hp - PTO: 30.37 hp - Plows: 1 - 2 |
| Total Built: 62,839 (Est) | Final | | P. Run: |


70 Standard Series

| | | | |
| --- | --- | --- | --- |
| Model | Year | Serial # | Engine Make & Model Etc. |
| Cockshutt 70 Standard 33 hp | 1936 | 300001 | Continental 3.3L 6 Cylinder Gasoline |
| Manufacturer: Oliver (Sold In Canada) | 1937 | 300634 | Continental 3.3L 6 Cylinder Kerosene |
| Plant: Charles City, Iowa | 1938 | 302084 | Continental 3.3L 6 Cylinder Distillate |
| | 1939 | 303465 | |
| | 1940 | 305362 | |
| (Also Made A Orchard Model) | 1941 | 306594 | |
| | 1942 | 307580 | |
| (All Specs Same As The Oliver 70 STD) | 1943 | 308118 | |
| | 1944 | 308484 | |
| | 1945 | 310218 | |
| | 1946 | 311116 | |
| Weight: 4,400 lbs | 1947 | 312690 | Gears: 4 Fwd and 1 Rev |
| Original Base Price: $1,123.30 (1945) | 1948 | 314221 | Drawbar: 22.7 hp - PTO: 30.37 hp - Plows: 1 - 2 |
| Total Built: 14,220 (Est) | Final | | P. Run: |


80 Row-Crop Series

| | | | |
| --- | --- | --- | --- |
| Model | Year | Serial # | Engine Make & Model Etc. |
| Cockshutt 80 Row-Crop 43 hp | 1937 | 109152 | Waukesha-Oliver 4.9L 4 Cylinder Gasoline |
| Manufacturer: Oliver (Sold In Canada) | 1938 | 109167 | Waukesha-Oliver 5.5L 4 Cylinder Kerosene |
| Plant: Charles City, Iowa | 1939 | 109783 | Waukesha-Oliver 5.5L 4 Cylinder Distillate |
| | 1940 | 110221 | |
| | 1941 | 110615 | |
| | 1942 | 110945 | |
| | 1943 | 111219 | |
| (All Specs Same As The Oliver 80 R.C.) | 1944 | 111391 | |
| | 1945 | 111929 | |
| | 1946 | 112879 | |
| Weight: 4,200 lbs | 1947 | 114144 | Gears: 4 Fwd and 1 Rev |
| Original Base Price: $1,560.85 (1945) | 1948 | 114944 | Drawbar: 29.92 hp - Belt: 38.78 hp - Plows: 3 |
| Total Built: 109,152 (Est) | Final | | P. Run: |


80 Standard Series

| | | | |
| --- | --- | --- | --- |
| Model | Year | Serial # | Engine Make & Model Etc. |
| Cockshutt 80 Standard 43 hp | 1937 | 803929 | Waukesha-Oliver 4.9L 4 Cylinder Gasoline |
| Manufacturer: Oliver (Sold In Canada) | 1938 | 803991 | Waukesha-Oliver 5.5L 4 Cylinder Kerosene |
| Plant: Charles City, Iowa | 1939 | 805377 | Waukesha-Oliver 5.5L 4 Cylinder Distillate |
| | 1940 | 806880 | |
| | 1941 | 808125 | |
| | 1942 | 809051 | |
| | 1943 | 809991 | |
| (All Specs Same As The Oliver 80 STD) | 1944 | 810470 | |
| | 1945 | 811991 | |
| | 1946 | 813067 | |
| Weight: 4,200 lbs | 1947 | 814564 | Gears: 4 Fwd and 1 Rev |
| Original Base Price: $1,560.85 (1945) | 1948 | 815216 | Drawbar: 35.91 hp - Belt: 41.27 hp - Plows: 3 |
| Total Built:11,287 (Est) | Final | | P. Run: |


90 & 99 Standard Series

| | | | |
| --- | --- | --- | --- |
| Model | Year | Serial # | Engine Make & Model Etc. |
| Cockshutt 90 & 99 Standard | 1937 | 508918 | Waukesha-Oliver 7.3L 4 Cylinder Gasoline |
| Manufacturer: Oliver (Sold In Canada) | 1938 | 508935 | Waukesha-Oliver 7.3L 4 Cylinder Kerosene |
| Plant: Charles City, Iowa | 1939 | 509612 | Waukesha-Oliver 7.3L 4 Cylinder Distillate |
| | 1940 | 510068 | |
| (90 & 99 Up-Dated Version Of Oliver 28-44) | 1941 | 510564 | |
| | 1942 | 510977 | 99: Had A High Compression Gas-Only Head |
| | 1943 | 511296 | |
| | 1944 | 511474 | 90: 4 Plows --- 99: 5 Plows |
| Weight: 90: 5700 lbs --- 99: 5,900 lbs | 1945 | 512044 | |
| | 1946 | 512281 | |
| 90: Original Base Price: $1,833.45 (1945) | 1947 | 513106 | Gears: 4 Fwd and 1 Rev |
| 99: Original Base Price: $1,879.25 (1945) | 1948 | 513856 | |
| Total Built: 3,938 (Est) | Final | | P. Run: |


540 Standard Series

| | | | |
| --- | --- | --- | --- |
| Model | Year | Serial # | Engine Make & Model Etc. |
| Cockshutt 540 Standard Utility 34 hp | 1958 | AM1001 | Continental 2.7L 4 Cylinder Gasoline |
| Plant: Brantford, Ontario, Canada | 1959 | AN5001 | Gas Eng: #F162-1364 Some had #F162-1489 |
| | 1960 | AO1001 | Gears: 6 Fwd and 2 Rev |
| | 1961 | AP1001 | Battery's: 1958 - 1959 6 Volt |
| Weight: 6,041 lbs | 1962 | AR1001 | 1961: 6 Volt & 12 Volt - 1962: 12 Volt Only |
| Original Base Price: $2,667 (1958) | | | Drawbar: 26.0 hp (Claimed) Plows: 2 - 3 |
| Total Built: 2,500 | Final | | P. Run: |


550 Row-Crop Series

| | | | |
| --- | --- | --- | --- |
| Model | Year | Serial # | Engine Make & Model Etc. |
| Cockshutt 550 Row-Crop 46 hp | 1958 | BM1001 | Hercules 3.2L 4 Cylinder |
| Plant: Brantford, Ontario, Canada | 1959 | BN5001 | Gas Engine: #G0198 - Diesel: #DD198 |
| | 1960 | BO1001 | Gears: 6 Fwd and 2 Rev - Plows: 3 |
| Weight: 3,730 lbs | 1961 | BP1001 | Battery's: 1 Gas - 12 Volt - 2 Diesel - 6 Volt |
| Total Built: 2,930 | Final | | P. Run: |


560 Row-Crop Series

| | | | |
| --- | --- | --- | --- |
| Model | Year | Serial # | Engine Make & Model Etc. |
| Cockshutt 560 Row-Crop 54 hp | 1958 | CM1001 | Perkins 4.4L 4 Cylinder Diesel Only |
| Plant: Brantford, Ontario, Canada | 1959 | CN5001 | 1958: L4 - 1959 - 1961 #4-270 DI Engine |
| Battery's: Two - 6 Volt | 1960 | CO7001 | Gears: 6 Fwd and 2 Rev |
| Weight: 7,200 lbs | 1961 | CP1001 | Plows: 4 |
| Total Built: 2,910 | Final | | P. Run: |


570 Row-Crop Series

| | | | |
| --- | --- | --- | --- |
| Model | Year | Serial # | Engine Make & Model Etc. |
| Cockshutt 570 Row-Crop 67 hp | 1958 | DM1001 | Hercules 4.9L 6 Cylinder Gasoline & Diesel |
| Plant: Brantford, Ontario, Canada | 1959 | DN5001 | Gas: #G0298 - Diesel: #DD298 Engines |
| Battery's: Two - 6 Volt | 1960 | DO7001 | Gears: 6 Fwd and 2 Rev |
| Weight: 7,000 lbs | | | Plows: 5 |
| Total Built: 3,100 | Final | | P. Run: |


570 Super Series

| | | | |
| --- | --- | --- | --- |
| Model | Year | Serial # | Engine Make & Model Etc. |
| Cockshutt 570 Super 71 hp | 1961 | DP1001 | Hercules 5.6L 6 Cylinder Diesel |
| Plant: Brantford, Ontario, Canada | 1962 | DR1001 | Diesel Only: #DD339 Engine |
| | | | Gears: 6 Fwd and 2 Rev |
| Cockshutt Tractors Last Production Model | | | Plows: 5 |
| Total Built: 1,680 | Final | | P. Run: |


580 Super Experimental Series

| | | | |
| --- | --- | --- | --- |
| Model | Year | Serial # | Engine Make & Model Etc. |
| Cockshutt 580 Super Standard 100 hp | 1962 | | Perkins 5.8L 6 Cylinder Diesel |
| Plant: Brantford, Ontario, Canada | | | Modified Final Drive - Wet Disc Brakes |
| | | | 12 Forward Speeds |
| (3 Hand-Built Experimental Models) | | | |
| Total Built: 1 (Known To Exist Today) | | | P. Run: (End Of Pure Cockshutt Tractors) |


A Rare Advertisement For The Cockshutt 580
That Never Went Into Production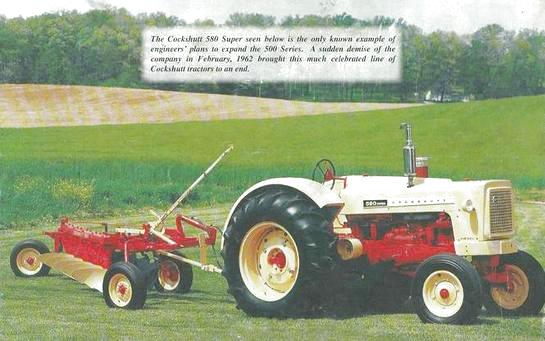 Wall Streets Corporate Raiders
( What happened to the 3 prototype 580 tractors? )
1958 was the year that Cockshutt lost control and was
bought out by corporate raiders. Large blocks of
shares were purchased on the open market. It
took less than 3 million to buy a company
that had assets exceeding 33 million
dollars.
The new owners sat around quietly for a while, but in
January 1962 they sold the farm equipment division
to the White Motor Co. who had already bought
Oliver, and soon would purchase another
tractor company Minneapolis-Moline.
The Cockshutt 580 model was left
hanging, not being able to get
past the one completed
prototype tractor.
It has been said that as soon as White took over control
of the Cockshutt division, employees were told to cut
up the 3 prototype 580 tractors for scrap. Some
how the 1 and only completed 580 tractor
escaped demolition, And Is Alive.
I have read the current owners of the big Cockshutt
are a group of investors, Clayton Lenhart, Paul
Summers Jr., McComas Albaugh, that keep
the tractor in Union Bridge, Maryland.
The 580 Super has been on display
at various fairs through out
the years.

The One And Only 580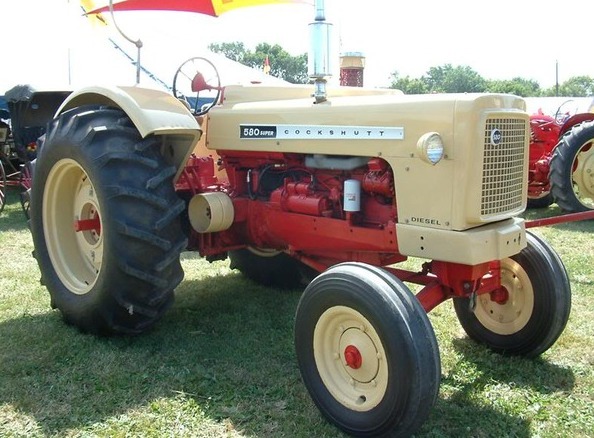 1962 Cockshutt 580 Super Experimental Diesel Tractor



MORE COCKSHUTT TRACTOR INFO BELOW

All Cockshutt Tractors Listed By Model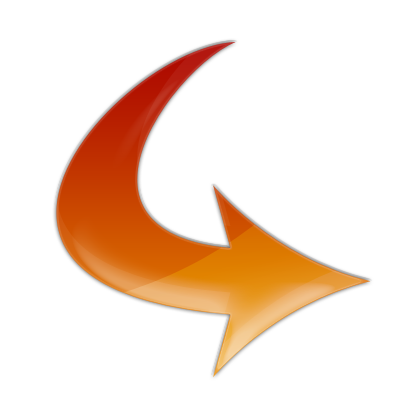 TractorData Cockshutt Tractor Series Info Here

Cockshutt Tractor Series Paint Codes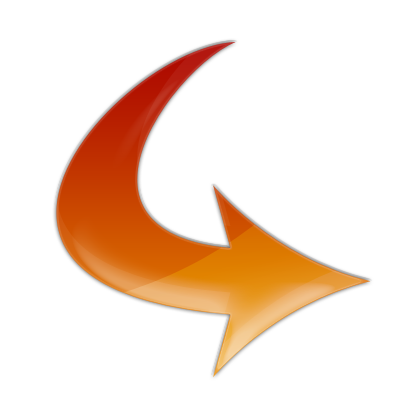 TTG Cockshutt Paint Codes .pdf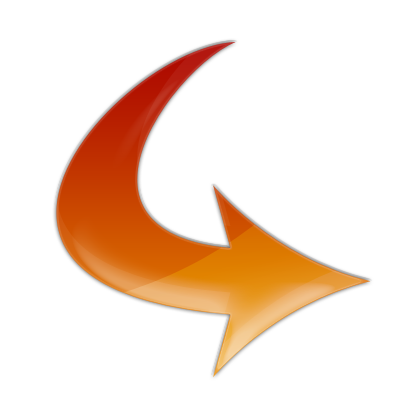 TTG Cockshutt-Paint Color Codes .pdf

Many Old Misc. Tractor Parts Files .pdf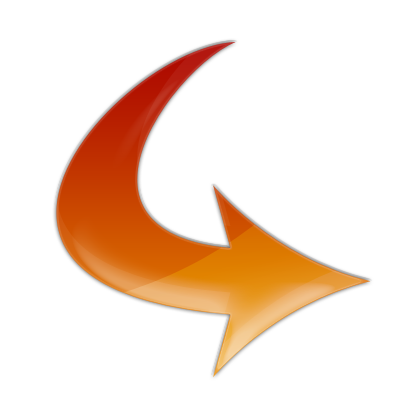 TTG Parts Files Etc. Here

⁕ 100 Years of University of Nebraska Tractor Tests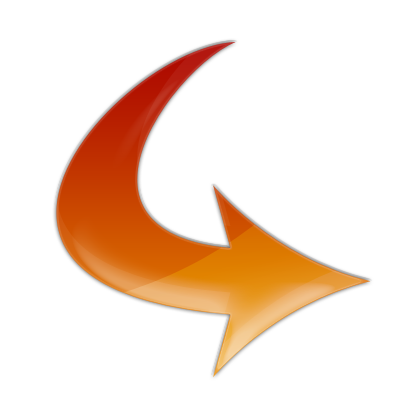 Farm Tractor Tests 1903 Thru 2009 Here


---


Several Different Models Shown

The 203rd Williamstown Fair, Canada's Oldest Annual Fair,
Williamstown, Ontario


---

President Eisenhower's Gift
1955 Cockshutt 40 Black Hawk Tractor
This special Cockshutt Black Hawk unique tractor was
given to President Dwight "Ike" Eisenhower by the
Pennsylvania, Indiana and Ohio Farm Bureaus
in November 1955, on his farm in Gettysburg,
Pennsylvania.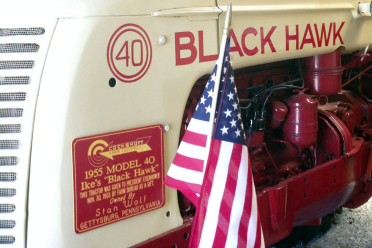 1955 Cockshutt 40 Black Hawk Tractor S/N 25285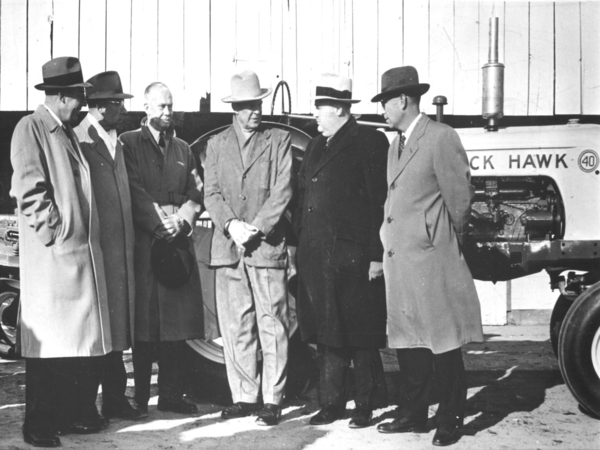 The President is the 4th from the left, November 30, 1955
This photo was taken at the auction in 2015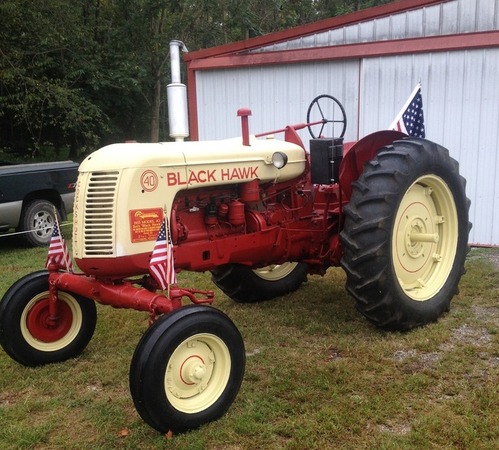 This unique Black Hawk was fitted with a cigar/cigarette
lighter and a short and long-wave radio.
Stanley Wolf who owned a farm near President Eisenhower's
in Gettysburg restored this 55' Cockshutt Black Hawk many
years ago. After Stanley's passing, his family sold his 50
plus tractor collection at auction in September 2015,
but this Cockshutt 40 Black Hawk was not for sale,
at this auction.
The Gettysburg Foundation purchased the Cockshutt Black
Hawk tractor from the Wolf's estate and shortly after in
2016 donated it to the National Park Service where it
is on display at the Eisenhower National Historic
Site in Gettysburg, President Eisenhower's 230
acre farm.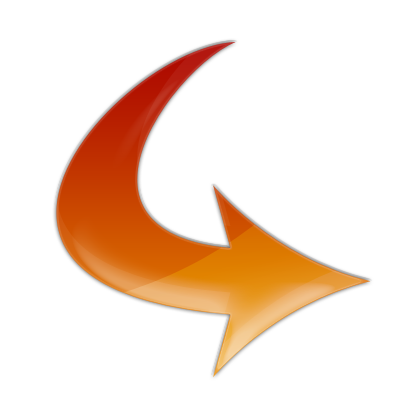 Visit The Eisenhower National Historic Site Here


---
Toplands & Double D Living History Farm 2015

1st Sunday In June Open House & Antique Tractor Show
Admission Free
Dudley Diebold's Toplands Farm
102 Painter Hill Road,
Roxbury, Ct.
Double D Living History Farm maintains the
largest collection of restored antique
tractors and farm equipment
in the Northeast.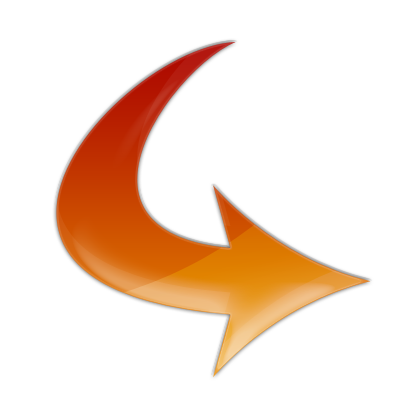 View Toplands Farm & D & D's Living History Info


---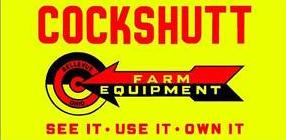 *Note: Cockshutt info is limited, if anyone has more
accurate info that can be added above, send me a
email at gtstoday@gmail.com Thanks, George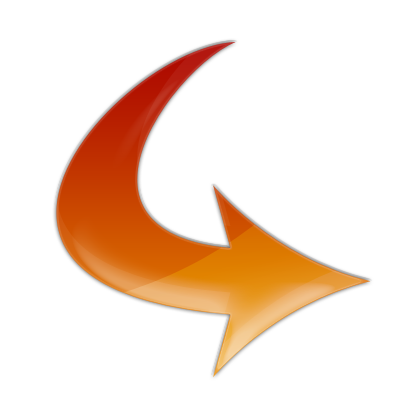 TTG Home Page Here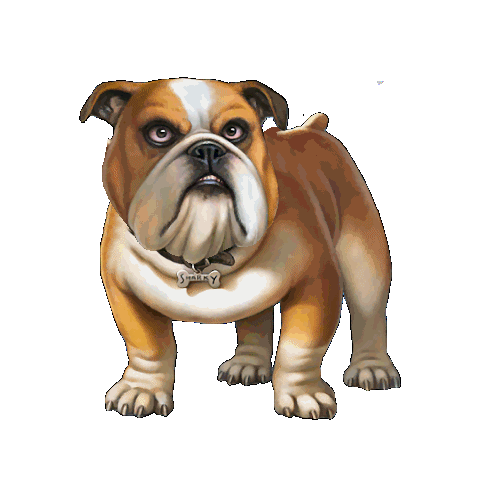 ( visits since march 1st, 2017 )
© 2011 ~ 2022 site was designed built and is maintained by
thetractorguysct.com all rights reserved