---
James Theodore Keys' Line
---
Amatoya Moytoy and Quatsy of Tellico:
1. AMATOYA MOYTOY (Name might possibly mean "Water Conjurer" or "Rain Maker") Research indicates he was born about 1640 in the mountains of East Tennessee and his wife, QUATSY of TELLICO (Wolf Clan) was born about 1650. However, there seems to be some confusion due to the fact there were several individuals named "Moytoy", including their son. Perhaps "Moytoy" was a title instead of a name.

As the Headman of Tellico, Amatoya Moytoy held the title of Amedohi-The Water Traveler, often recorded as Moytoy. In his council were seven Beloved Men, elder statesmen, each representing one of the seven clans.

Moytoy presided over the council, who concerned themselves with the management of lands, the public granary, and laws. Chosen by the people, he was also a religious leader. He had veto power over the selection of the War Chief.

In 1730, Sir Alexander Cuming, unoffically an envoy of the English King, George II, made an alliance with Moytoy and gained acknowledgment of complete sovereignty of the King over the Cherokee people. On April 3, 1730, Cuming named Moytoy "Emperor of the Cherokees".

In the Cherokee town of Nequassee the Cherokee national council agreed to accept Moytoy as their "emperor" and to give their allegiance to King George II. This was accompanied by a great deal of ceremony and dancing.

Moytoy sent seven prominent members of the tribe to London to meet the King...
The Son of Amatoya Moytoy and Quatsy:
2. MOYTOY or Mo Y To Y (probable Cherokee name), known as The Pigeon of Tellico (A-Ni-Gi-Yah, Wolf Clan). Born abt 1680 in Tellico, Cherokee Nation, Tennessee, and died Bet. 1760 - 1774 in Cherokee Nation. He married WOMAN OF A-NI-KA-WI (Deer Clan). She was born Bet. 1680 - 1700 in Cherokee Nation, Tennessee. It is believed that she was the sister of "Old Hop" Connecot.

The Son of Moytoy and Woman of Deer Clan:
3. WILLENAWAH "GREAT EAGLE" (A-Ni-Ka-Wi, Deer Clan) was born About 1714. The Colonial Records of South Carolina, Documents Relating to Indian Affairs, 1750-1754, p100; Talk of the Head Men of Chotee and Tanacy (SCIB2-100) August 9, 1751;
"Tifftoya of Tanassee (commonly called Willeeneewa) says he has been a head man this six years."
Also known as Tifftoya of Tanassee, Willenawah, Great (Grey) Eagle married WOMAN of ANI'-WA'DI, Red Paint clan. She was born about 1717.
The Son of Great Eagle and Woman of Paint Clan:
4. CHU-QUA-LA-TA-QUE , "DOUBLEHEAD" (A-Ni-Wo-Di, Paint Clan) 1740-1807, married CREAT PRIBER (A-Ni-Gi-Lo-Hi, Long Hair Clan)between 1771 and 1799. Doublehead was born into the Cherokee aristocracy near present day Somerset, Kentucky. His father had been a ferocious warrior, and his brother, Tassel, was a principal chief. His oldest sister, Wurteh, married a white man, Nathan Gist. Their son was the Cadmus, Sequoyah. Another sister married a white soldier and their son, John Watts, became the Chief of Chiefs.

Creat Priber was the daughter of DAUGHTER of MOYTOY (Long Hair Clan) and a German, CHRISTIAN GOTTLIEB PRIBER, who left a wife and five children in Germany to live among the Cherokee and serve as Moytoy's "Secretary of State".
(note: I've seen Creat Priber's mother listed as being Clogoittah, whom Moytoy sent with the delegation to London to meet with King George II. I've even seen it suggested Priber may have met her there before he came to America. I guess that is possible, but every reference I've seen to Clogoittah suggests she/he was a man. Perhaps the true lineage of Moytoys children will never be known.)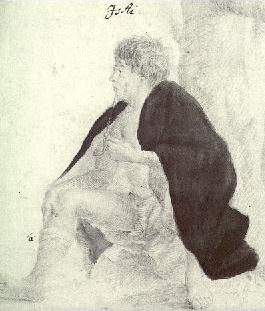 Christian
Gottlieb Priber

Around 1736, Priber established headquarters at Tellico with Chief Moytoy, represented himself as a Jesuit priest, dressed as a Cherokee and adapted to Cherokee ways and customs. He proclaimed himself "His Majesty's Principal Secretary of State", in which all Cherokees were to be equal, goods were to be held in common, children were to become the property of the state and marriage was to be abolished.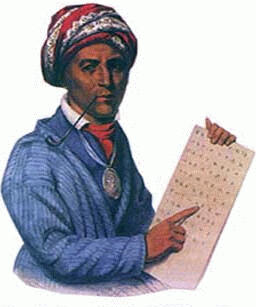 Sequoyah
George Gists or Guess


Trained to be a silversmith, this gifted son of Doublehead's sister, Wurteh, was not recognized by his father's family until he won worldwide acclaim for inventing the Cherokee syllabary. He never learned to speak, read or write English.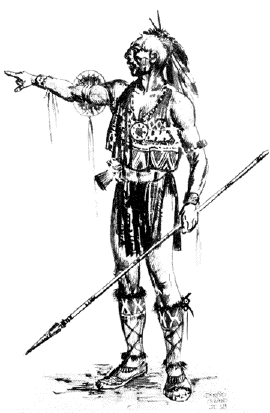 DOUBLEHEAD

The Cumberland Plateau, remembered in Native American history as the Land of Lightning, the Land of the Thunderbolt, was the center of the universe for those who wore the painted and crafted Lightning Bolt, the protectors and guardians of the sacred mirror, crescent moon and the double sun, the Chickamauga Cherokee.

The Cumberland River was called Ta-Eache, River of the Blue Flute. The three Great falls area of Yahoo Falls, Cumberland Falls, and Eagle Falls became sacred grounds.

Out of the Cumberland Plateau came many mighty Chiefs, War Women, and medicine people. Moytoy, War Chief Dragging Canoe, War Woman Standing Fern, and War Chief Doublehead... All who defended and protected their people, their culture, their land, and their sacred sites. But it was a loosing battle against the encroachment of the whites.

Doublehead gathered his band and left the Cumberland Plateau for the sanctuary of the Tennessee River Valley. His village, several miles south of the present day Athens, Alabama, thrived. He continued to lead occasional raiding parties against the white Tennessee settlements. It was the murder of his brother, Tassel that sent him on the warpath.

Principal Chief Tassel had been invited to meet with Major John Hubbert under a flag of truce. After conducting a series of talks, the unarmed chief went to a smoke house where he was to spend the night. That night, while Tassell lay sleeping, a young white man armed with a tomahawk snuck into the building and killed the chief. The youth's parents had recently been killed by a Cherokee war party.

When Doublehead learned of his brother's death, he went into a rage. He spread death and destruction for hundreds of miles in all directions, to any settlements in his path.

Knowing how important symbolism was to his warriors, he used the death of Captain William Overall to futher his gruesome reputation and instill terror in hearts of his enemies. Overall had showed himself to be a brave fighter before Doublehead killed him and had his body carried back to the village, where in full view of everyone Doublehead dismembered his body and began eating the choicest parts, ordering his warriors to do the same.

"The white man is no more than a dog, or a pig of the woods," he reportedly said, "and should be treated the same way." Once, when asked what he thought of white people, he replied "Too Salty".

In 1794 Doublehead suddenly quit the warpath. If the story had ended there he would have been remembered as one of the greatest of Cherokee Warriors. Instead, he is remembered as a man who betrayed his people, subject to what was known in the old ways as the "Blood Law". Such a betrayal required he pay with his life.

Almost immediately after he quit the warpath, he appeared to be a very rich man. Some say he had found treasure buried by De Soto and his men when they passed thru the Cherokee country in 1540.

Couriers were sent to Nashville regularly to purchase furniture and other items for his house. He collected fine race horses and began to dress the part of a wealthy man.

A leading group of Cherokees had been invited to Philadelphia to meet with President George Washington. Doublehead was among them. People were excited to see the man who was called "the most bloodthirsty savage in America". Doublehead undoubtedly took advantage of his reputation, for when he left, Secretary of War Henry Knox awarded him an annual annuity of $5,000. No doubt this was cheaper than having Doublehead return to the warpath.

This agreement also placed Doublehead under the protection of the United States Government. This didn't sit well with the whites who had lost their homes and relatives to him.

Doublehead made frequent trips to New Orleans, Pensacola, Charleston and even visited New York. He visited some of the finer restaurants and attended a play while there.

While Doublehead had become wealthy and was prospering, the Cherokee nation was not. With each treaty the Indian lands became smaller. Whites were illegally pouring into the tribal lands. These poor white squatters felt they had every right to take the land from "savages". They expected the United States Government to back them up.

In January of 1806, Doublehead and the other chiefs of the Cherokee nation signed a treaty giving up all the land lying between the Tennessee and Duck rivers. unknown to the other chiefs, Doublehead had negotiated a secret agreement where he received a large tract of land, numbering in the tens of thousands of acres, in exchange for signing the treaty.

If Doublehead thought his betrayal would go unnoticed, he was mistaken. Several months later, while attending an Indian ball game, a chief named Bone Polisher denounced him and called him a traitor. Bone Polisher then drew his tomahawk and attacked Doublehead. Despite having received several wounds, he managed to shoot his assailant through the heart.

Onlookers carried the wounded chief to McIntosh's Tavern where they sought help. Instead, they were confronted by more angry accusers who also called Doublehead a traitor. Someone in the tavern, no one knows who, extinguished the light. As soon as the tavern went dark, a shot was fired. When the light was lit again, Doublehead was lying on the floor mortally wounded.
His friends carried the chief across the field to the home of the schoolmaster but his blood trail was easy to follow and within minutes another group finished him off. He died there, at the Hiwasse Station, in the Cherokee Nation East, which would later become the state of Tennessee, in August of 1807.

Doublehead was dead.


The Daughter of Doublehead and Creat Priber:
5. GU-LU-STI-YU ( A-Ni-Gi-Lo-Hi, Long Hair Clan) married an English trader and translator, SAMUEL RILEY. Sam Riley married two of Doublehead's daughters, thus securing the family fortune. He seized most of Chief Doublehead's personal property after his murder in 1807. Riley was known as the "White Patron" of Gideon Blackburn's School. Although he is reported to have fathered five children by Ni-go-di-ge-yu and eleven by Gu-lu-sti-yu, it is quite possible that he falsely claimed two wives in order to ensure his entitlements to Doublehead's fortune. On April 28, 1819, Riley filed a suit for his entitlements, about fifteen days before he succumb to an illness. He is assumed to have been Doublehead's son in law solely on the basis of his last will and testament, which was accepted by the Supreme Court of the Cherokee Nation on October 25, 1825, as recorded by John Martin. Sam Riley and Gu-Lu-Sti-Yu raised their children as white in Roane Co. Tennessee, near Fort Loudon.
The Daughter of Gu-Lu-Sti-Yu and Samuel Riley:
6. MARY "POLLY" RILEY (A-Ni-Gi-Lo-Hi, Long Hair Clan) married SAMUEL KEYS II... Son of Riley's partner, SAMUEL KEYS. It was thought Samuel Keys was from England or Northern Ireland and settled in Maryland. At some point he moved with his sons to Indian Country, in what is now Tennessee where he partnered up with Sam Riley. Three Riley sisters married three Keys brothers. Polly married Samuel Keys II, Elizabeth Riley married Isaac Keys and Sallie Riley married William Keys.

Taking advantage of the McMinn treaty of 1817, the three brothers built a steamboat by tying logs together and powered it by an engine they built themselves. On this boat they took their families down the Tennessee River to lay claim to land in Indian Territory in the right of their wives who were half Cherokee. They tied up near Mud Creek in Old Fabius, Jackson Co., Alabama and each family staked their reservation of 640 acres. The area is now known as Roach's Cove.

THE McMINN TREATY OF 1817 states:
ART. 8. And to each and every head of any Indian family residing on the east side of the Mississippi river, on the lands that are now or may hereafter be surrendered to the United States, who may wish to become citizens of the United States, the United States do agree to give a reservation of six hundred and forty acres of land in a square to include their improvements which are to be as near the centre thereof as practicable, in which they will have a life estate with a reversion in fee simple to their children reserving to the widow her dower, the register of whose names is to be filed in the office of the Cherokee agent, which shall be kept open until the census is taken as stipulated in the third article of this treaty. Provided, That if any of the heads of families, for whom reservations may be made, should remove therefrom, then, in that case the right to revert to the United States. And provided further, That the land which may be reserved under this article, be deducted from the amount which has been ceded under the first and second articles of this treaty.
ART. 9. It is also provided by the contracting parties, that nothing in the foregoing articles shall be construed so as to prevent any of the parties so contracting from the free navigation of all the waters mentioned therein.
[*144]
ART. 10. The whole of the Cherokee nation do hereby cede to the United States all right, title, and claim, to all reservations made to Doublehead and others, which were reserved to them by a treaty made and entered into at the city of Washington, bearing date the seventh of January, one thousand eight hundred and six.
Sam and Polly Keys had three children when they came down the river to what now is Roach's Cove, Old Fabius, Jackson Co., Alabama. Katherine Anariah, Richard and Evaline. They had three more, Samuel Riley, JAMES MADISON and Mary in their new home. They worked hard to clear and improve the land but were constantly harassed by white squatters who were encouraged by then Congressman Andrew Jackson's determination to remove all Indians west of the Mississippi River. Polly became ill and ask Sam to take her to the South side of the Tennessee River, to a place called Drip Springs that was known for its healing powers. She never recovered and passed away in 1828. In the year of Polly's death, the despised Andrew Jackson was elected President.

Samuel Keys II met and married a white woman named Isabella and had four more children. They moved off the land, leaving it in the care of Levi Cache, giving the government all the excuse they needed to disallow the Keys claim to their reservation land in Alabama. The other two Keys Families claims were disallowed also. Isaac and Elizabeth Keys and William and Sallie Keys decided to move west to the land the government promised would be Indian Territory "as long as the grass grows and the river flows" (Oklahoma).

About 1831, William and Isaac Keys rigged a small steamboat and with 30 other families, set out for Indian Territory. They landed at Barron Fork, near Fort Gibson. They founded New Hope Mission at Barron Fork with Rev. Duncan O'Bryant in charge.They established a ferry over Arkansas River with their steamboat. William Keys and two of his children died with pneumonia the first year they were in Indian Territory (Oklahoma).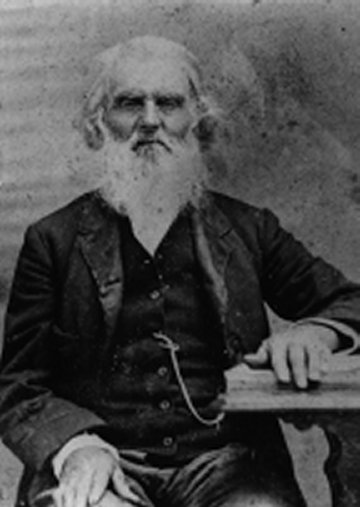 Richard Keys, oldest brother of James Madison Keys. Photo owned by Ted Keys

Sam decided he and his children would remain in Alabama as he still owned 320 acres that were not reservation land. They lived as whites so when the removal finally came in 1839, Anariah was the only member of Sam's immediate family to go west with her husband, known only as "Brewer" They settled in Washington Co. Arkansas. In the 1851 Chapman Siler Rolls of Indians remaining east of the Mississippi River, only Sam and his children are listed in Jackson Co. Alabama.

The Son of Mary "Polly" Riley and Sam Keys II:
7. JAMES MADISON KEYS married MARY ETTA SMITH. By 1856 Samuel Keys II died, his son, James Madison Keys had married a feisty young white woman named Mary Etta Smith, daughter of WILLIAM and OLIVIA "OLLIE" (WHITE) SMITH from up on Racoon (Sand) Mountain near Old Fabius. They had twelve children all together, two died in infancy and are buried next to their grandfather in the old Sterne Cemetery.

The Civil War came. Jim's half brother Isaac Norris Keys served the Confederacy with Company H, 53rd Alabama Infantry. Somehow the Keys family made it through these difficult times intact and Jim was listed on the 1870 Census as a farmer. Then he suddenly died, leaving Mary Etta a widow with ten children. Jim's brothers, Richard and Samuel Riley Keys at some point decided to give it up and move their families to the Cherokee Nation West (present day Oklahoma). I believe Mary Etta was asked to join them with the understanding she could claim land there by the right of her children's Cherokee heritage in a small community called Wauhillau.

It wasn't easy to leave her mother and father and all she had ever known but she decided it was the best for her family. She loaded up an old covered wagon with a few belongings and her children (one of which was my great-grandfather, James Theodore Keys) and headed west with the other relations. Before she could get very far, her father chased her down and begged Mary Etta not to take all the children away from him. She relented and as hard as it was, she left her oldest boy William with her father. William's descendants still live in Jackson Co. Alabama.

James Theodore Keys was a young man when he came from Alabama with his mother, Mary Etta and eight of his nine brothers and sisters to the small Cherokee settlement known as Wauhillau "Where Eagles Gather", in Indian Territory. His sister Hulda was a year older and a big help to her mother, no doubt. But now James was the eldest son, man of the family. Fortunately, The Keys family was already well established in Indian Territory.

The Keys School was named for his great uncle Isaac who had come down river with James' grandma and grandpa from Tennessee to Alabama and had left there before the removal. Isaac and Elizabeth's girl Nannie had married the Reverend Thomas Bertholf, a Methodist/Episcopal Minister who built a small church South of Tahlequah and named it Riley's Chapel for James' great grandfather, Samuel Riley. Isaac and Elizabeth's son, Riley Keys was elected Chief Justice of the Cherokee Nation in 1865 and served in that position for over 20 years.

Judge Keys' daughter, Mary married General Pleasant Porter, a member of the Muskogee Tribe, son of a Irish father and the daughter of Tartope Tustennuggee, Chief of the Okmulgee. I'm not sure why they called him "General", he enlisted in the Confederate Army as a private and rose to the rank of 1st Lieutenant... perhaps it had to do with his participation in the Esparhecher War. During that insurrection, he was given complete military authority when the Creek Nation was placed under Martial Law. He devoted himself to re-establishing the Creek Nations schools and served as superintendent for several terms. He served six years in the House of Warriors and eight in the House of Kings, which he presided over for one term. He also served as a delegate to Washington during thirteen sessions of Congress.

General Pleasant Porter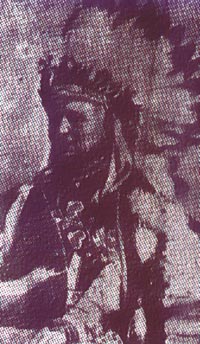 This noted chief of the Creeks was pronounced by President McKinley as one of the greatest American Indians. He had a fine personality, weighed over 200 pounds. The chief entertainer in any crowd, he was the most progressive citizen in the Creek Nation, as well as in the entire Indian Territory.

~~~~~Esparhecher's War~~~~~ 
During the time the railroad was being laid from Vinita to the Arkansas river Esparhecher, a Creek brave, became dissatisfied with the manner in which Samuel Checotah, chief of the Creek nation, was governing the Creek people. Esparhecher wanted to be chief, and, being a full-blood, he had a large following of fullbloods. During the summer and fall of 1882 his following amounted to what may be called a small army.
Chief Checotah had the best lawabiding element back of him. Among these were such men as Honorable Pleasant Porter and Chief Perryman.
Esparhecher struck cautiously, however, and was outwitted, for the better Creeks carried their trouble to the government and soon the soldiers from Fort Gibson were in the field, supporting Chief Checotah.

Unable then to strike a decisive blow, Esparhecher decided to retreat west with his forces and to induce the wild tribes in what is now western Oklahoma to join him. That would have made his force superior in number to the loyal Creeks and the white soldiers. But the soldiers didn't cease the chase for a moment. Under orders from Washington the white commander marched after Esparhecher and overtook him after several days. Eparhecher's full-bloods formed in line for battle and the soldiers formed a similar line in plain sight. The captain gave the order to charge and with a yell the soldiers dashed toward the Indians who hesitated a moment and then began running away from the well-armed, well-trained troopers. Not a shot was fired, though it took some days to round up all the rebellious Creeks and start them for the guardhouse at Fort Gibson. They were held under guard there for a short time, but were released when a written agreement was entered into between the leaders of the two factions. This agreement ended civil war among the Creeks though a small band on each side continued a guerrilla warfare for several months in the Tulsa area.

Mary Etta (Smith) Keys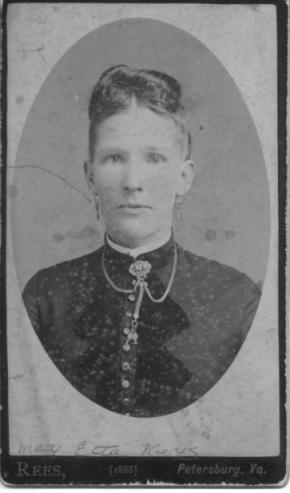 There is some question as to whether this is actually the Mary Etta Keys who was James Theodore's mother. Note the year, she would have been 56 years old, and the location, Virginia? How would she have been there? Maybe, maybe not.
Photo owned by Jerry Woolard.

The Son of James Madison Keys and Mary Etta Smith:
8.JAMES THEODORE KEYS continued farming as his father had before him. He then met and married a young widow named MARGARET ELIZABETH (nee CARLILE) SPEARS (A-Ni-Wa-Yah, Wolf Clan). Margaret, who had two children by her first husband George (Lizzy Belle and John), was the daughter of the local blacksmith THOMAS HOLMES CARLILE and LAVANNA ELIZABETH CATRON (Wolf Clan), an 1/8 th Cherokee woman who was the great great granddaughter of the GHI-GA-U, NANYE`HI, NANCY WARD (Wolf Clan).

Margaretīs marriage to James produced four more boys, James Madison, JOHN DUDLEY, Walter Scott and Levi Henry. They also had a daughter, Mary Josephine "Josie" Keys. By 1902 they had moved their family to Cookson, nearer the Illinois River. The Government in Washington had decided it was time to dissolve the Cherokee Nations Tribal Government in preparation for statehood. The lands given to the Tribe for "As long as the grass grows and the river flows" was to be broken up into individual citizenīs allotments of 110 acres. All Cherokee citizens were to be "enrolled" in what the Dawes Commission called the "Final Rolls". James, Margaret and their children were enrolled on Census Card number 6475. Each was given what my grandpa called a D. C. Roll number (Dawes Commission) My grandfather, John Dudley Keys was number 15497. He was fourteen at the time. The land of their allotment was located on the west side of the Illinois River in Park Hill down the old Qualls Road. It was full of rocks and steep ravines.

By 1903, Mary Etta had died and was buried in the old Caney Cemetery in Wauhillau. In 1906 Indian Territory became the State of Oklahoma. The Cherokee Nation as such no longer existed. In 1917, James Theodore Keys died and was buried in the Park Hill Cemetery.

John Dudley Keys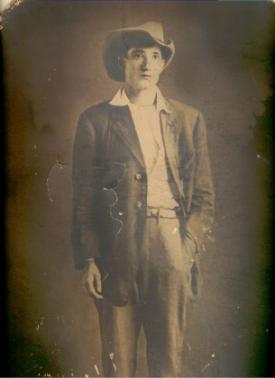 Age: 18 years .

John's mother, Margaret (nee Carlile) was the great-great-great granddauhter of The Ghi-ga-u, Nanye`hi, Nancy Ward. His father, James Theodore Keys was the great-great grandson of Chu-Qua-La-Ta-Que ~ Chief Doublehead.